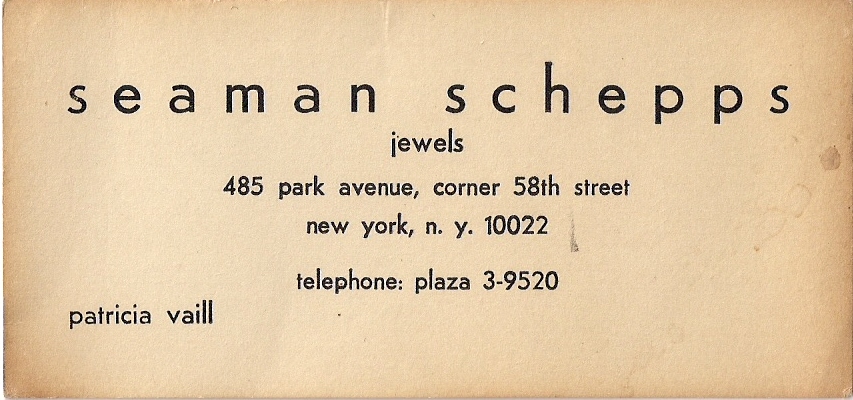 NEW YORK– So you need an idea for a business card?
Try this one. The above card was in the back of an old desk that was once in the Abraham & Straus department store in Brooklyn. It is a simple card, no ostentation, all business. Those who know, know what Seaman Schepps sells; it doesn't need a photo or description. It's a great way to brand your business, or yourself. Good taste.
It is a card for Patricia Vaill, from Seaman Schepps Jewels. The address is 485 Park Avenue, Corner 58th Street, New York, NY 10022. That's still their address.
The telephone is "PLAZA 3-9530." It's the same number.
What's neat is her New York Times obituary. It says:
Published: February 18, 1993 Patricia Schepps Vaill, a jewelry designer, died on Sunday at her home in Manhattan. She was 74….

Until she became ill in 1990, Mrs. Vaill was acting as a design consultant. She was known for her work in the Art Deco style in jewelry and the use of beach glass and rock crystal.

Mrs. Vaill was the former president of Seaman Schepps, the Park Avenue jewelry design firm founded by her father in 1921. She took over after her father's death in 1972, retiring in 1988.

She was born in San Francisco. She attended L'Ecole Mont-Choisi in Lausanne, Switzerland, and the Todhunter School in New York City, where she studied American History under Eleanor Roosevelt.

Besides her daughter, Amanda, a writer in New York City, she is survived by a sister, Virginia Jane Scott of Cold Spring Harbor, L.I., and two grandchildren.