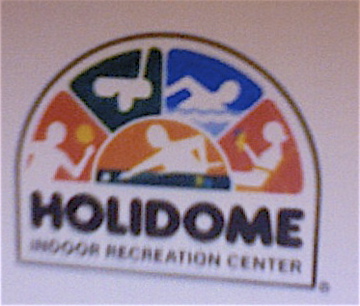 It's 1977, The Great Sign of Holiday Inn beckoned at the roadside. Well, actually, it didn't beckon, it screamed. BIG arrow pointing into hotel. Very often, each sign had a letter board announcing upcoming meetings and conventions at the hotel.
Turn off the Interstate, and into the Holiday Inn.
Good things happen at Holiday Inn. Great things happen at Holiday Inns with Holidomes. Back in the day, you would know a Holiday Inn with a Holidome because Holiday Inn listings books had a tiny Holidome illustration next to the hotels with Holidomes.
In 2005, Holiday Inn announced that it was bringing back the Holidome brand, which had fallen out of favor at the company. It would revamp them, adding more games and water-park like rides. It was a nod to Generation X sensibilities, and a precursor to the Great Wolf Lodge concept. But we haven't seen much more about it.