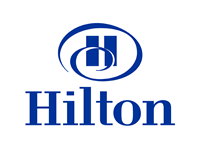 NEW YORK – The research firm Harris Interactive has released its 2010 rankings of tourism brands. There are some surprises.
Hilton is the most notable in the list and now leads Marriott. Cheap hotels are lower on the list, but luxury brands also have lower scores due to the obvious smaller market and brand familiarity. A few other observations:
Sadly, Econo-Lodge is at the bottom. That does not have to be, as it was once a great brand, and just needs a bit of burnishing to turn it around.We've got some ideas, and we might just share them.
Holiday Inn is up high. While I don't like the new signage or lettering, they are making progress in revamping the brand.
Inter-Continental, one surviving bit of Pan American World Airways, is near the top. That's an accomplishment.
Here is the list:
Hilton Hotels 63.00
Westin Hotels & Resorts 62.17
Sheraton Hotels & Resorts 62.01
Embassy Suites 61.98
Inter-Continental Hotels 61.72
Holiday Inns 61.65
Marriott Hotels 61.64
Courtyard by Marriott Hotels 61.21
Crowne Plaza Hotels & Resorts 61.04
W Hotels 60.93
Omni Hotels 60.72
Radisson Hotels & Resorts 60.51
Hampton Inn 60.24
Doubletree Hotels 59.38
Renaissance Hotels 59.18
Homewood Suites 59.05
Comfort Suites 58.88
Wyndham Hotels & Resorts 58.53
Hyatt Hotels 58.31
Comfort Inns & Suites 58.17
TownePlace Suites 57.91
Best Western Hotels 57.90
SpringHill Suites 57.88
 Comfort Inn 57.77
Summerfield Suites 57.35
Clarion Hotels 56.78
LaQuinta 56.15
Quality Inn 55.48
Ramada Inns 55.31
Four Seasons 55.13
Days Inns 53.70
Sleep Inn 53.17
Conrad Hotels & Resorts 52.02
Red Roof Inns 51.68
MainStay Suites 50.07
 Cambria Suites 49.37
Rodeway Inn 48.21
Suburban Extended Stay
Econo Lodge 47.87