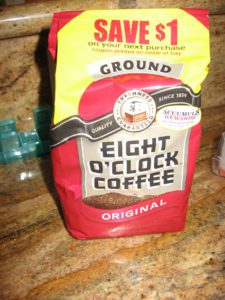 Eight O'Clock beats Starbucks?
A recent study from Consumer Reports, published on Yahoo, looked at coffee from blind taste tests, including all brands.Their verdict? Says Consumer Reports:
Chock full o'Nuts and Maxwell House have pushed coffee that's "heavenly" and "good to the last drop" since 1932 and 1907, respectively. But off-notes, little complexity, and, for Chock full o' Nuts, variable quality put both behind Eight O'Clock.
Midwest-based Caribou and Kickapoo beat an array of larger players among regular coffees. But Bucks County Coffee, from Langhorne, Penn., tasted only OK, and Peet's, from Berkeley, Calif., was burnt and bitter, despite costing $14 per pound. Peet's, Archer Farms, and Kickapoo also varied from batch to batch.