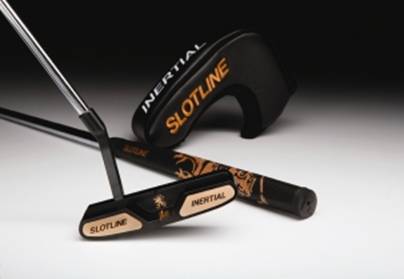 RICHMOND – The Inertial putter is back.
The original Inertial putter sold more than one million units and was once second in putter sales in the '80s. Attendees at the 2009 PGA Merchandising show in Orlando saw the return of the Inertial putter series from Slotline, as well as 14 putters in the family.
"I can't tell you how many golfers came up to me at the show and told me how much they loved their original Slotline Inertial, and how happy they are to see us back on the market," said Chad Lehr, Slotline's product manager, in a press release to BrandlandUSA. "The senior tour pros have been impressed with the variety of models as well as the performance and feel of the putters," said manufacturer's tour representative, Mike Nickell.
The original Inertial putter has been off the market for over seven years. In 2007, Slotline was purchased by Dynamic Brands, the Richmond-based parent company for the Bag Boy Company, the Baby Jogger Company, and AMF Golf.
Slotline was created by weekend golfer and former McDonnell Douglas engineer Clovis "Duke" Duclos in the 1970s. Frustrated with his putting, Duke created a putter with an alignment aid that utilized a SLOT (located on the back edge of the top-line) and LINE (located directly beneath the SLOT). If the LINE is visible in the SLOT, then you are correctly positioned over the ball. Thus, the name Slotline.
Duke used his knowledge of physics to create a better putter using slogans like, "Putt up to 2.5 times better."
Slotline's new 500 Series incorporates the original Inertial putter design with updated materials and technology such as forged 6061 aircraft grade aluminum, Tungsten weighting for exceptionally high MOI, tri-milled face, and the signature SLOT and LINE alignment aid. The SL-500 Series includes: SL-581F Hi-Moment Offset, SL-582F Hi-Moment Non-Offset, SL-583F New Moment, and the SL-584F Center Stroke Mallet. (All SL-500 Series putters MSRP for $159.95.)
About Dynamic Brands
Dynamic Brands is the parent company for golf brands Bag Boy, AMF Golf and Slotline. The 60 year old Bag Boy is an industry leader in the walking cart, travel cover and golf bag markets. AMF Golf features high quality and value priced golf products for men, ladies and juniors. For more information about Slotline, call 800-955-2269 or www.slotlinegolf.com.