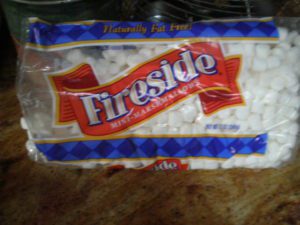 LYNN, MASSACHUSETTS – In the pantheon of grocery products, there are certain ones that are not essential, yet are essential. In the UK, it's Marmite and Bovril. And across the United States, we have all sorts of regional variations.
One regional New England product is Marshmallow Fluff, made by Durkee-Mower of Lynn, Massachusetts. Lynn is also the home of Lydia Pinkham.) The product's brilliance is that it is viscous, without being too fluid.
It started as a one-man-show homemade product, and introduced in 1917 as Toot Sweet Marshmallow Fluff. Today, it is an iconic New England/Northeast brand; we don't need to go through all the history as it is written in detail on www.marshmallowfluff.com. It's still locally owned, and has not been gobbled up and ruined by some food conglomerate.
The product got insta-iconic a few years ago when a controversy erupted about its status in schools, and the Fluffernutter sandwich, which is a local favorite. While the Fluffernutter is enjoyed with Fluff and peanut butter, others enjoy Fluff and Kraft American Cheese.
Marshmallows are fascinating brands; the idea of a marshmallow is pretty antique. If you have ever tried to make at home, it is possible but a pain in the ass, and you never get the light feeling you get from a factory-made marshmallow. Kraft makes Jet-Puffed Marshmallows; SB Global Foods makes Campfire Marshmallows and Rocky Mountain Marshmallows. There is also Fireside, seen above.
Go on Durkee-Mower's site and you can order a really cool Marshmallow Fluff mug.
Durkee-Mower Inc., P.O. Box 470, Lynn, MA 01903, 1-781-593-8007