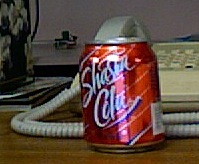 FORT LAUDERDALE – Make a simple boring product, keep at it, and folks will buy it.
That's the philosophy behind National Beverage Corp. (NASDAQ:FIZZ), makers of the discount brands Shasta, Faygo, LaCroix and Everfresh. The company reported a good financial period ending January 31, 2009. Revenues increased 5 percent to $129.4 million and earnings grew 12 percent to $3.7 million for the three months ended January 31, 2009 and cash increased to $75 million.
The company issued a great press release …
"As we all face the never-ending bombardment of dire news – foreclosures, bankruptcies, rising unemployment, global bank failures, billion dollar frauds, etc., etc., etc. I am extremely grateful for . . . and proud of . . . our National Beverage!" said Nick A. Caporella, the company's chairman and CEO in a press release.
"While some may have chided our conservative expansion over recent years . . . we believe that our diligent focus on operating margins and cash flow has given us an advantageous position to now – aggressively seek and capture opportunities!"
The Shasta brand started as Mount Shasta Mineral Springs Company; founded in Dec. 6, 1889. The company also operated a health spa and resort.
The brand gained cachet during Prohibition, when its water was transported in special glass-lined redwood lined railroad tank cars. It started selling ginger ale in 1931, and claims to have been the first company to sell diet drinks, and first to sell soft drinks in metal cans. During the conglomerate era of the 1960s, it became a unit of Sara Lee.