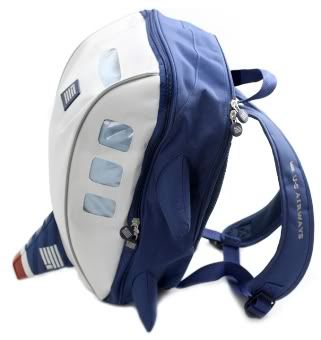 The airline backpack is a tired old idea that has mostly been forgotten, save those nifty retro backs reintroduced by Pan Am One.
USAirways has come up with a new version of the airline bag; they posted a picture of it on Photobucket. It's a great idea to promote your brand; not only does the picture get some exposure on the site, but it conveys the image in a way that the consumer can react, namely purchasing one. It also promotes the brand among kids.
While not the most interesting airline brand-wise (I tend to prefer the older brands), they have done a spectacular job of keeping their old brands alive, including promotional planes sporting the markings of Piedmont Airlines, PSA and Allegheny. In addition, the airline has used these brands as names for their subsidiaries. This does two things. First, it keeps clear title to the brand, as the airline can say it is in continuous use. And secondly, it gives employees and nostalgic customers the ability to see how the airline has evolved while not ignoring its past.
We've been told by USAirways staff that there is a reason for some of this brand cleverness, as Mary Ellen Beauvais still is interested in the trademarks and design. She is the wife of America West founder Ed Beauvais.
The product is the US Airways NubyPlane backpack from IDT Jets. Says the description, "This completely custom backpack features an airplane shape, US Airway colors and logos, with see through windows and plenty of room for your little travelers stuff or school suppliers."