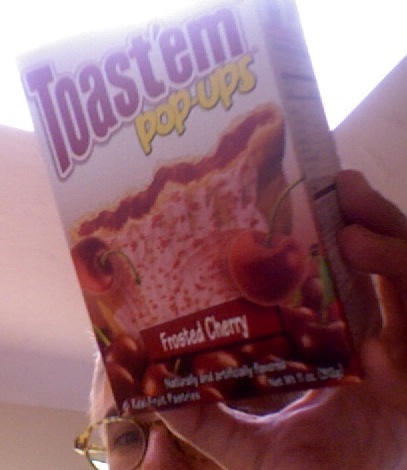 While we are big fans of Pop Tarts, we are intrigued that there are other brands around.
Wikipedia says that Post, part of General Foods, was the innovator in the early 1960s of the toaster pastry.
At Dollar Tree today, we found Toast'em Pop Ups, which claim to date back to 1964 and are the descendants of those first toaster pastries. Their website says that Schulze and Burch Biscuit Company produced the first toaster pastry – Toast'em – for General Foods. In 1971, Schulze and Burch of Chicago bought the Toast'em brand, and still makes it. At $1 for six, it's a deal.
Nabisco used to make Toastettes, but we recall that they were never iced and were a bit more boring, though competent. If you go to the site of Toastettes, it refers back to Nabisco's site. We won't miss Toastettes that much, though there is a whole fan club that seeks to revive them.
Then there are Kellogg's Pop Tarts, the favorite. Pop Tarts, according to their site, began in the early 1960s, and were actually first to market. Frosted Pop Tarts appeared in 1967.
Did you know that after natural disasters, Wal-Mart knows that Americans crave Pop-Tarts, and they are restocked quickly because of demand.