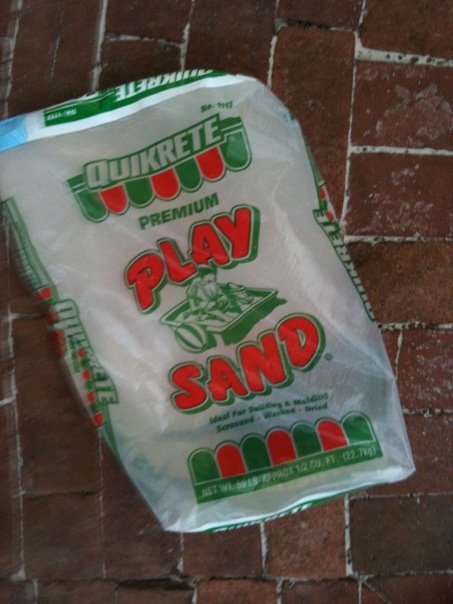 The idea behind a brand is to turn a commodity into a special thing. And what is more commodity than concrete; concrete is cement and sand, right?
Such was the genius of Gene Winchester, who created Quikrete brand concrete mix in 1952 in Columbus, Ohio. Now headquartered in Atlanta, the brand is trusted by do-it-yourselfers everywhere. In addition, they make other products like sandbox sand. By 1988, the brand was all the way out in west, and Oregon comapnies like Central Pre-Mix Concrete were setting up production under the name.
This is smart branding; while kids play sand has little to do with actual construction, the company gets kids familiar with the Quikrete brand at an early age, so when they head to the lumber yard, they look for Quikrete.
The play sand can be used to fill in sidewalk cracks, mixing mortar and gardening. The sand bags are actually plastic, so they can be used when there is possible flooding. It has a chart on the side so that moms and dads can calculate the right amount for a sand box.
The brand has always been cheap. In 1967, it ran about 95 cents a bag.
Through the years, there have been all sorts of Quikrete products, including black top patch and cement paint.
Quikrete products have many uses. In winter, sand bags can be used to weight down cars, or to help on slick ice. Many people use the concrete bags to build rip-rap.
Through the years, the company has been astute about promoting different uses for its brand, including a 165 page book on do-it-yourself concrete projects in 1986.
Are there other commodity products out there that can be repackaged a different way in order to create new markets?