BATTLE CREEK, Mich., – In spite of a national concern over children's health and sickening obesity and diabetes rates, Kellogg's has come up with yet another junk food concoction, Kellogg's Little Debbie Swiss Rolls Cereal. The cereal is a co-branded effort between the cereal company and McKee Foods, the maker of Little Debbie and Drake's Cakes.
"Breakfast just got a lot sweeter," the company said in a press release.
In the last four decades, Kellogg's has moved from its roots as a Christian company born out of healthy eating, and turned itself into a full-on purveyor of junk foods.
"Our fans loved the first three collaborations with Little Debbie, and we are excited to continue providing new ways to enjoy these beloved childhood treats," said Laura Newman, senior director of brand marketing at Kellogg Company. "With Kellogg's continued partnership with Little Debbie, families everywhere can enjoy a bite of the Swiss Rolls flavor at the breakfast table or as a mid-day treat."
The initial post-World War II idea from Kellogg's was to encourage children to eat sweet cold cereal, as but one part of a healthy breakfast. Today, the only discussion of health easily found on the company's website is the vision to, "Embrace the belief that all injuries are preventable and that achieving a healthy and safe environment starts with me."
As its sugared cereals like Froot Loops and Frosted Flakes and products like Pop-Tarts grew in popularity in the 1970s, the company still made products like All Bran, Special K and Product 19, and made a pretense at health.
Those healthy food practices went full drain into the InsinkErator around two decades ago when the company purchased Sunshine, the baker, and moved from a role as a purveyor breakfast cereals into snacks like Pringles. The company even discontinued vitamin enriched Product 19 in 2016.
Meanwhile Post Cereals has gained shelf space with its lineup of more nutritious cereals, including Grape Nuts. And Quaker has continued its healthy push into umpteen variations on plain old oatmeal.
Kellogg's might do well to look at their European and British operations, where they still hold a prestigious Royal Warrant for Corn Flakes. In the U.K., where healthier cereal brands like Wheetabix are now being offered in the U.S., the company still tries to uphold good health.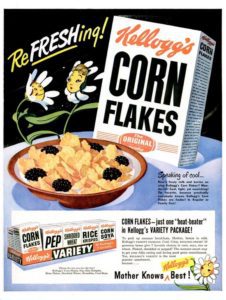 This move does not diminish the value of Little Debbie. She is advertised, and clearly positions herself, as a sweet roll, doing sweet things. Perhaps it is, indeed, a bit unfair to Little Debbie, as her whole brand is about making a small, sweet roll.
Here is how the company describes the cereal.
"Doubling down on delicious chocolatey flavor, each bite of the new Kellogg's Little Debbie Swiss Rolls Cereal delivers crispy, chocolatey swirls and a chocolatey creme flavored coating."
Oddly, the Kellogg's mission statement says more about what its own people do, and has not one mention of nutrition.
By being mindful and committed to these ideals, we uphold our founder's dedication to people and their well-being. And we promote an environment where we can push beyond boundaries and across borders to create foods and brands that help to fuel the best in everyone everywhere.

Kellogg's, Our Vision, Purpose and Values
They do, however, have a startling array of inward-focused "diversity" efforts that include designing shoes to mimic Froot Loops.