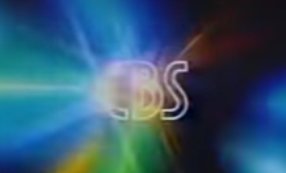 May 3, CBS is bringing back movies. Precisely CBS Sunday Night at the Movies.
CBS announced plans to bring back Sunday movies featuring five films from their sister Paramount Pictures library. They include Forrest Gump, Indiana Jones and the Raiders of the Lost Ark, Indiana Jones and the Last Crusade, Mission: Impossible, and Titanic.
"It's a five-week programming event with epic films, iconic stars, and brilliant stories that viewers love—and love to watch together," said Noriko Kelley, Executive Vice President, Program Planning and Scheduling, CBS Entertainment, in a network press post.
This is not a new idea; for generations television movies have been a staple of network programming. To be sure, it's an idea of desperation, trying to come up with interesting programming during this flu shutdown. But what was interesting about it was that they used old graphics, packaging and nomenclature to re-launch it.
The intros were part of what made network movies something special. All through the 60s, 70s and 80s, movies on television were a major part of programming. During the 70s, they packaged big movies, rarely seen on TV, as big events. Walter Podrazik and Harry Castleman's The TV Schedule Book shows that the CBS Sunday Night Movies began in the fall of 1971, the night when NBC ran the Wonderful World of Disney and Bonanza, and ABC aired The ABC Sunday Night Movie. At that time, there was no 60 Minutes wind down to anchor the night; CBS tended to run scripted shows.
CBS Had Early Movies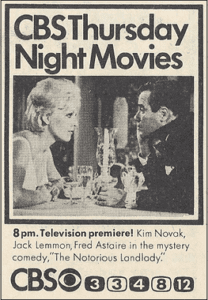 In the 1940s, CBS ran Film Theater of the Air, with unseen British films. Through most of the 50s and 60s, CBS, with their top TV shows, did not need to run movies. In the early '50s, ABC ran old RKO lower budget movies; their 1957 Hollywood Film Theater ran movies like Gunga Din and Top Hat. Major studios, however, were threatened by television, and did not want to run movies on TV.
But in 1961, movies went big time on television when NBC paid 20th Century Fox $50 million for a group of movies for their new NBC Saturday Night at the Movies. That move made sense; NBC parent RCA was trying to sell color television sets, and compete with an ascendant ABC. By 1971, CBS ran movies on Sunday night, and added them on Friday nights. In 1972, CBS had three nights of movies, Sunday, Friday and Thursday.
Network movies mostly disappeared, though networks do tend to run them at holiday times; the Thanksgiving airings of Sound of Music and Easter showings of The Ten Commandments seem to be a part of our holiday memories, and so they survive. These memories can be co-opted.
Part of making a network movie special is introducing it and promoting it. For this outing, Morgan Freeman is heard in the commercial, seen below as a teaser for Facebook and other social media.
The graphics in the promo were apparently inspired by the original titles from R/Greenberg Associates, a firm that was known for movie titles. I wish I knew the composer.
The movie night series will kick off Sunday, May 3, with Indiana Jones and the Raiders of the Lost Ark at 8/7c on CBS. Forrest Gump will air the following Sunday, May 10 at 8/7c, and Mission: Impossible will run May 17 at 8/7c. At bottom, their teaser post; it sounds even more special as it looks like the old graphics.
Design and Presentation
Movies on television were, and are, different from regular films. For us average folk, who did/do not go to movies unless they are very special, or highly recommended, they are a way to sample the culture without having to participate in the movie culture. The TV movie was also edited, with the nasty bits out. Us people in the real world know that people cuss, and do not need to see it all the time. We also like to watch movies without explicit bits, not because we are prudes, but because violence and sex are used to sauce up a lame story. Television movies were different in that they also had to be fit in a two hour or three hour period, with commercials. This means that stuff has to be edited out.
The key part of the appeal was also in the presentation and intro graphics. They helped to define what you were seeing. A blog called Syncopated Clock talks about what station IDs and intros mean:
The shows, the music, the logos seem talismanic. Television was like a genie who may delight or aggravate but was hard to ignore.
CBS, during the late 1960s and 70s, was all about presentation and design, with great designers such as Lou Dorfsman leading the effort. From 1945-1960, Georg Olden led the CBS television graphics efforts, putting in place slides and graphics that helped make the network establish itself, design wise. Dorfsman, who first began working with CBS Radio, later became head of design for the network. It was his stamp that gave the network a clear identity, which helped sell good programming, and make the otherwise banal, slightly interesting.
In recent years, CBS has been using some of their store of introductions, including their CBS Special Presentation intro, and music, which appeared before shows like Charlie Brown Christmas.
In an era when there is so much content available online, branding and presentation becomes even more important. Curation and identity help people cut through clutter, and find something good to watch. CBS, and the other networks, need to reinforce that identity even more in this era. William Paley, who turned a cigar business into a media empire, knew how to do it. Perhaps it is time to bring that idea of curation back, even if its a retro redux.
Below, a few intros from CBS, beginning with their promotion for the current May 2020.
Below, the retro version. Same colors, thankfully.
And an early Thursday movie intro:
CBS also used the Avant font. Oh so 70s.