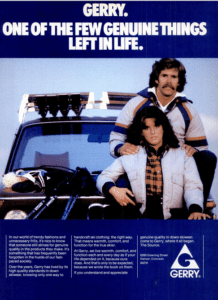 As the ski craze hit America in the 1960s and 1970s, almost every city in the U.S. had an independent ski shop, filled with dozens of independent ski brands. These shops were sometimes ski and sports stores, other times ski and surf shops. It all depended on the climate, the market, and the local tastes.
At the center were skiers, or ski fans, who assembled the skis from various parts. You picked a ski, a set of boots, a binding, poles and perhaps, if you were lucky, a jacket, ski pants and hat and gloves. Each of these products came from a separate small manufacturer.
This same principle applied to the skateboard, which came around in the late 1970s. You assembled your own vision of a sporting package, along with the help of the store.
Hundreds of Local Sporting Brands
Skiing exploded after World War II. It had been a European sport, and not a particularly democratic one. But after the war, television and the Olympics arrived. For the first time, Americans saw these handsome skiers, in pristine snow covered towns. Movies like Charade sold the glamor of skiiing; Cary Grant's outfit is even dissected on a movie site. Walt Disney designed the look of Squaw Valley for the Olympics. And local promoters like Sepp Kober created skiing in warmer climates of the southeast.
Even more resorts and retailers followed. Some retailers were related to the resorts as well (analogous to the golf pro shop, or tennis pro shop), and others were in town, near the resorts.
But in the 1970s, the shops exploded, even in warm weather climates. Before a trip to Steamboat, Stratton or Mount Snow, you could start your trip in your local store, and get yourself outfitted. These were all mom and pop outfits, run by ski and sport lovers.

One of the oldest of these ski shops extant is Lahout's of New Hampshire. Other survivors of this era include Peter Glenn, originally of Vermont. They have nine stores, as well as a mail order operation. Carroll Reed perhaps the nation's best known; the brand was mismanaged and is no longer, though it has appeared as a store brand. In Colorado, there is The Ski Shop, dating from 1952. There are also larger ski shop chains, including Sun & Ski Sports. Sarasota, Florida has Active Lifestyles. (The list of remaining stores is probably long. We invite readers to add comments at the bottom of their favorites).
At the center, and most visible, were the ski brands themselves. The top ones, in no particular order, were brands like Rossignol, K2, Yugoslavia's Elan, Olin (yes, made by the chemical company), Dynastar and Hart. AMF, the conglomerate sports company (Voit, Hatteras, Alcort) owned Head. For boots, Nordica (the first one to have bring giant colors like yellow), Tecnica and Hanson quickly come to mind.
After the 1960s, safety bindings became much more important, as in previous decades, skis were all held to the skier by straps, which created a danger when you fell. Top bindings were typically Spademan, Solomon, Tyrolia or Look.
The website Skiiing History has a history of safety bindings. At one time there were dozens of brands, including A&T, ABC, Alta, Aspen, Attenhofer, Cervin, Cober, Cubco, Cortina, Dovre, Eckel, Evernew, Geze, Gresvig, Goodman, Gripon, Kenny K, Krystal, Look, Marker, Meergans, Miller, Northland, O-U, P&M, Persenico, Ramy, Ski-Flete, Ski Free, Spearhead, Stowe Flexible, Top, Tyrolia, U.S. Star and Werner.
Ski poles, too, had a wide variety of choices, though they were not as plentiful. Originally, they were bamboo, and later aluminum. And ski clothes had a universe of brands too. Think Obermeyer (from retailer Klaus Obermeyer), CB (from CB Vaughan Jr.), Skyr and White Stag.
Dozens of Brands, Companies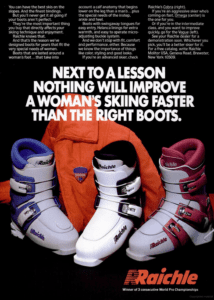 This universe of independent, competitive brands ensured that local retailers could have a mix of products and vendors. Even something as complex as a snowmobile had dozens of brands, including John Deere, Rupp, Sno-Jet and Fox-Trac.
Each store, then, could create its own brand and identity around the different lines it carried, and the expertise it had. In this time, there was no awful big box, with a surly clerk and a woke corporate positioning. Instead, you had an immediate social atmosphere, and a willingness to spend money.
Very often, the ski shop also became a social center. Part of the work of the local ski shop was not just selling the skis, but encouraging local ski clubs in offering ski trips. There was, of course, a social element of this in the 1970s. Church youth groups would go, as would singles and family groups.
Below, a view of some 1970s ski brands.
In the comments section below that, we invite readers to tell us about their local ski store, either new or established.