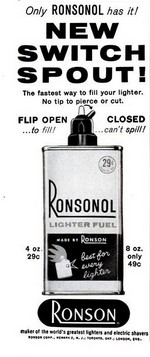 There are great brands related to lighters. Of course there is Zippo, which has done an aggressive and smart job of keeping an anachronistic brand alive at a time when folks don't smoke as much as they used to.
One other brand is Ronson, the flint and lighter fluid company, which is now going to be a part of Zippo. If you recall, Ronson Flints were often seen by checkout lines, and were mounted in a store Point of Sale card like the one seen here. The small flints then could be inserted in lighters. The trademark red and yellow speaks 20th century convenience and general store like no other decoration.
Ronson began selling lighters in 1913 and was founded in 1886 by Louis V. Aronson as The Art Metal Works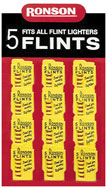 An October press release said that Zippo would purchase Ronson. According to Zippo President and CEO Gregory Booth, "Zippo is looking forward to adding the venerable Ronson trademark to its family of brands. This acquisition provides an opportunity to expand our business, particularly leveraging Ronson's competitive position in the lighter and fuels markets. We are very excited about the growth opportunities for both brands."
The Zippo purchase agreement does not include the Ronson Aviation subsidiary of Trenton, New Jersey.
Ronson has as much or more value as a clear and distinct brand from Zippo, but with the marketing support and influence of Zippo, there are good prospects for it.