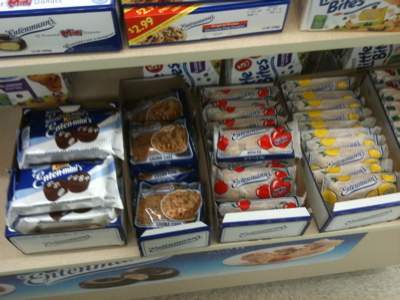 A new Entenmann's at the Publix store at The Landings in Sarasota most precisely looks like a Hostess display. It was not like Entenmann's at all, but instead directly resembled the Hostess display assortments of the 1970s, namely cupcakes and fruit pies. Hostess, no longer aggressive about its advertising and shelf space, has left a major hole for Entenmann's to exploit.
It is unfortunate that this has happened, as Hostess once had shelf space everywhere, and this is a market that rightly belonged to Hostess. But their quality has suffered, and they have been lax about gaining display space in stores.
Furthermore, they have expanded their brand onto things that had nothing to do with Hostess, like Merita Sweet Sixteen donuts, which they have ruined by changing the name. Meanwhile, Entenmann's, now part of the Bimbo Bakeries USA, is going after all parts of this market.
It is a situation that can easily be reversed, but if it lingers on for a few more years, consumer patterns will change and the next generation will associate fruit pies and chocolate cupcakes with Entenmann's. Hostess, however, also owns the Drake's brand, and it can position take that brand up against Entenmann's if it liked. Drake's is a New York City brand, and it has a history like Entenmann's.