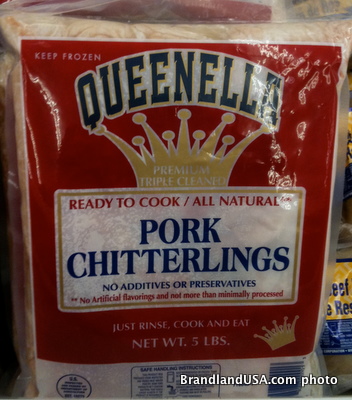 A staple of the holidays in the South are chitterlings, pronounced chitlins.
Growing up, of the animal parts, most Southerners would eat souse and scrapple, and chitlins. Souse is, of course, a head cheese made of the brains of a pig. It is eaten as a cold cut, and is in a sort of jelly, from the natural gelatin in the meat, I think, though I am sure they had to add more.
Some of the packaged sandwich meat brands sold souse as part of their product line. It is now totally out of fashion and I wonder if any brands still sell it. As I child, I could stomach it, but that was about it. Scrapple (pork brains), however, is a different story. Prepared well, it can be tasty, though the idea of it will kill the taste for most.
In the South, chitterlings (or chitlins) were eaten mostly by the servants, as they were given the offal. With the new awareness of soul food, suddenly these brands are becoming favored regional traditions, sort of a delicacy. Chitterlings (pronounced chitlins) are still popular, though do not appear on many restaurant menus. Nevertheless, there are strong brands, each having a following in different parts of the U.S. Note: they must be cleaned and officials recommend that they be boiled, so as to prevent dangerous bacterial contamination. They are, after all, a pig's intestine.
Here, some of America's best known chitterling brands, in no particular order.
Tomorrow: The history of Rapa Scrapple of Delaware.
Editor's Note: Please read comments below on the quality of different brands. Our readers have very different ideas.