Part of the reason I love brands is because I studied them at the Irvington Country Store.
When I was 15, in 1979, my father bought a country store in Irvington, Virginia on the Northern Neck. It was a cool country store, and he did the right things with it, including bringing in deli sandwiches AND continuing to sell stuff like Chap-et, Hav-a-Hank and Ronson Lighter flints by the giant NCR cash register. It was all very King of the Hill, made hip because it was in the cute little Virginia town of Irvington, and folks like Roger Mudd occasionally dropped in. A frequent customer was George Washington. I swear. And he was tall.
But the coolest thing for me is I got to order the drinks and the candy. My scheme was this. If it was a cool brand, I wanted to try it. If it sold and it wasn't cool, that didn't matter either. Certainly, it was too late for Wacky Packs, but you can bet I had every cool bubble gum series there was.
The candy and cigarette wholesaler was T.W. Bonner in Kilmarnock; they had a rep that came by fairly regularly to stock us up with multiple varieties of Life Savers. I was most happy that one time, he got us a new rack from Adams/Warner-Lambert, which made Dentyne, Certs, Trident and Bubble Yum, essentially all the American Chickle brands. Also present? Clark's Teaberry.
But we are here to talk about soft drinks.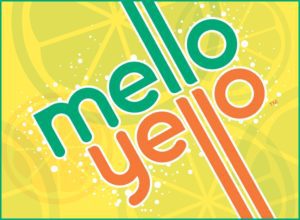 I did favor some brands more than others, particularly in the soft drinks. For instance, I was a big fan of A&W; it was not sold through a beverage distributor, and I think it had to come in from a route guy wholesaler. I wish I could remember his name, but he wore white, polyester short sleeved shirts, had a Skil pocket protector, and most certainly did a bit with the Grecian and buzzcut. He was not bothered when I ordered 11 cases. It was an honest mistake. I ordered one case; my dad said, hey they sold well the last time, why don't you order two. So I ordered a second, not by writing the number two but by putting a hatch mark next to the one. Ergo, we had 11 cases of A&W. I was also a big fan of Dr. Brown's Black Cherry Soda. That came from the gourmet wholesaler, I think. Only later (like today!) did I learn that the can was designed by Herb Lubalin.
The best thing that I got to do was to push the Coca-Cola products. Other than Coke, the brand I felt was most interesting was Mello Yello. Not sure why, because it was, pure and simple, a ripoff of Mountain Dew. But that was OK with me, as Mountain Dew was something I only wanted to drink in the Blue Ridge or Appalachians at camp. I didn't want it in more urbane quarters.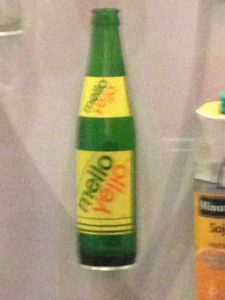 So now, happy day in 2010, and a nice intern with Coca-Cola doing social media named Lauren J. Coppage sends me a press release about retro Mello Yello, and the company bringing back old packaging.
The new design for Mello Yello is from the New York-based design agency Stag & Hare. It features the "original playful tilt of the green and orange logo, but now with the pair of double "L"s strolling off the edge of the can." In the logo, bubbles and fruit images float in the background.
Since the summers of disco, tie dye and 1970s cool, Mello Yello has offered a delicious citrus flavor to chill any hot summer day. Starting this summer, Mello Yello is rocking that same smooth taste in a remixed version of the original package design. "Mello Yello"s fans are passionate about its citrus flavor," said Sabrina Tandon, Mello Yello's senior manager of smooth.
"We want to thank those fans by making the brand more available and taking it back to its roots with a look that truly captures the original, easy-going smooth of the '70s." While Mello Yello has been widely available in the Midwest and Southeast United States, it is now spreading the "Mello" state of mind to more areas of the country. Mello Yello fans can expect to find the brand in new places like Philadelphia and the Northwest as early as this summer.
Not too bad of a redesign. It just makes me feel old. And appreciative of the time with my father. Any dad who lets you order the candy and soft drinks wins the prize, eh? I'll need to tell him that again this Father's Day.
Below, photos of the place, including vintage photos from a dear friend from Scotland who worked in the store.