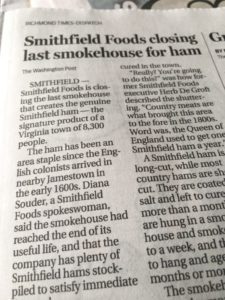 SMITHFIELD, Va. – Yet another bit of appalling news from the world of conglomerate brands. This morning, The Washington Post reported that the now-Chinese-owned Smithfield Foods has stopped making hams in Smithfield.
Of course, if you make ham in the most famous ham capital in the world, and you make millions and billions on selling pork products as the world's largest producer, you can't figure out a way to sell and make cured Smithfield hams in Smithfield?
This news happens when the American consumer is more and more concerned with local foods, authentic meats and regional tastes.
Smithfield would do better to have some specialty brands, and not just try to be the commodity producer. It should improve its Smithfield operation, set up a visitor center around Smithfield hams, and use it to market the history of ham. This would do well for the company, and allow its owners to have a ceremonial place to show off their company.
Smithfield owns far too many pork brands, including Eckrich, Farmland, Armour, John Morrell, Kretschmar, Curly's, Carando, Cook's, Margherita, Gwaltney, and Healthy Ones. Now owned by China's WH Group, formerly Shuanghui Group, listed on the Hong Kong exchange, and is no longer American. When the sale of the company closed in 2013, this was the quote:
"This transaction will create a leading global animal protein enterprise," said Zhijun Yang, Chief Executive Officer of Shuanghui International.
Making a global protein enterprise! We are well along the way to that. When the sale closed, Smithfield's Larry Pope promised the same old Smithfield, only better. You can't make this stuff up.
This is not all bad news. The reality is that while Smithfield Foods is trademarked, Smithfield ham is not and governed by state law, and all you have to do to have Smithfield ham is to cure hams in Smithfield. So this leaves the market open for the folks not interested in being a "protein enterprise" to make their own Smithfield ham.
Read more about Smithfield HERE.