One of the oldest extant American tobacco brands is Dill's. J.G. Dill was once a great Virginia tobacco company, known worldwide for its Dill's Best pipe tobacco. While as far as we know the tobacco brand Dill's does not survive, Dill's Premium Pipe Cleaners, known by their yellow and red package, do live on.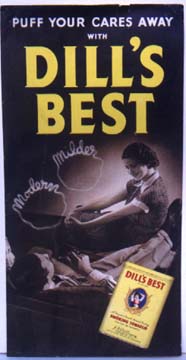 J.G. Dill, mostly a maker of pipe tobaccos, gradually lost favor as Americans largely quit smoking pipes. At some point it became a part of U.S. Tobacco; the packaging would read J.G. Dill (U.S. Tobacco Successor) or something similar. Gradually, the company brand disappeared.
The 1946 trademark application for Dill's Best from U.S. Tobacco points to the first use of the Dill's Best name in 1885, though other packages say 1848. Dill's also made a nautical-feeling brand called Look Out cut plug, and had sister brands like the cigarette called Sano (an early low tar), as well as Tweed and Model. It is unclear when U.S. Tobacco (or J.G. Dill) started selling pipe cleaners.
For a time, the brand sponsored network television, including the live NBC show called Martin Kane, Private Eye. Veoh has an episode online with an intro showing the tobacco products, as well as numerous people smoking the brands (the camera cuts to the tobacco label, quite overhanded product placement, including regular visits to a tobacco shop). Click on the show title for the Veoh link:
Martin Kane, Private Eye, 1949-54


[Narrator] "Martin Kane, Private Eye…presented by Model…Dill's Best…Old Briar Pipe Tobacco…and their new teammate…Sano cigarettes for full smoking pleasure, yet only one percent nicotine." (Voice of William Gargan as Kane) "This is Martin Kane with a story about a dime-a-dance girl, a Broadway joint, a niece named Irma Field, and her uncle, a distinguished old gent named Brooks Field who currently has his Brooks Brothers parked in my guest chair."
Dill's was the creation of the Richmond brothers J.D. and Adolph Dill, who created Dill's Best, according to The Entrepreneurs: Explorations Within the American Tradition by Robert Sobel. Yours truly happens to be fascinated by Dill's, mostly because he lived in a Richmond, Virginia house build by Adolph, which is also spelled Addolph, and one of his favorite buildings in Richmond (indeed the world) is the Model Tobacco building.
Dill's was one of the many family owned tobacco companies of the turn of the century; another was T.C. Williams, whose son, Adolph Dill Williams, was a generous benefactor to the Virginia Museum of Fine Arts. (History question: We'd love some reader help on the genealogy, please!)

While the pipe tobacco is gone, Dill's pipe cleaners still survive, though younger users of pipe cleaners probably don't even know what they were originally used for. Indeed they have been renamed in many craft stores, though most still know them as pipe cleaners. We wonder if there isn't a bigger market at Michael's than at the tobacco stores.
Dill's Pipe Cleaners were later sold to Lane Limited, and the trademark was recently renewed by its new owners, International Pipes and Accessories, 1731 U.S. Highway 21 South, Sparta, SC, 28675.