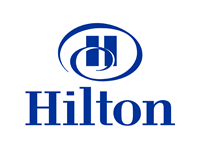 A few months ago, artist Tammy Trent talked about Sept. 11, 2001, which for her was also the day she found out her husband had died in a diving accident. She was in Kingston, Jamaica, and crying alone in her hotel room, praying for help. In walked a housekeeper, who consoled her. Said Trent:
"In a Hilton housekeeping outfit. And there was this precious angel, and she held me and she cried and she prayed and we began to pray together."
It's a great story, but also evidence that in branding, all your worrying about logos and design, and all this other brand personality and traits junk, often gets in the way of the people. And truly, it is your employees, your front-line people, who are the ones who are your brand to the public. Your employees, ticked off about some dictum from corporate, will not be the ones to console and pray with a grieving widow.
She has told that story hundreds of times, we are sure, and each time the message sinks in as a message to listeners. The subtext? Hilton people care. Hilton people care. Hilton people care.
If you treat your employees well, they will also treat your customers well, and then it will be measured back to you. This is not only true in the tourism and hospitality business, but any business where employees deal with the public.
Oh, and do one more thing. It doesn't hurt to hire people who go to church.