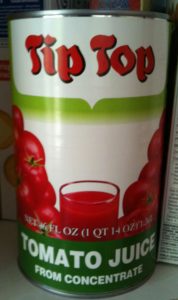 TIPP CITY, Ohio – Back in the day, there were hundreds of regional tomato brands across the U.S.
Canneries were not giant agribusiness, but were instead closer to the field, family-owned. In Virginia, I can recall Webster's, who was famous for his Webster's catchup. Old man Webster lived in a giant plantation on the Eastern Shore of Virginia. While he is a forgotten figure (as is his catsup), most who travel Route 13 on the Eastern Shore will remember the peacock figurines that decorated his gates.
One regional tomato brand that survived is the Tip Top Canning Company of Tipp City, Ohio. According to their website, they opened in 1924, when the Timmer family purchased a cannery on South First Street in Tippecanoe City, Ohio. They said that back then, tomatoes were "grown in fields just down the road and brought to the factory in horse-drawn wagons." They report that they have tripled production in the last decade, and apparently do a large amount of contract/private label canning.
The Timmer family still owns the brand, and they sell dozens of different tomato products, including this tomato juice. They promise that all of their tomato products come from fields nearby, including "dedicated family farmers" in the fertile soil of Ohio's Darke County, Henry County, Putnam County, and Hancock County.
While you might want to ask your gourmet foodstore if they have Tip Top, we actually found this tomato juice can at the Dollar Tree. Must have been some overstock.