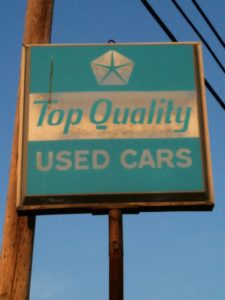 WASHINGTON, D.C. – Just off the headlines. The massive shutdown of dealers ordered by the Obama administration was a massive failure. Not that you couldn't have noticed by just talking to some of the dealers themselves.
I recall running into a group of repair guys from Sarasota Chrysler-Plymouth, which is now Sarasota Suzuki Mitsubishi. This dealership was a successful one, situated right in the middle of hundreds of thousands of retirees.
They could not understand why they were being shut down, when they were able to do the impossible, namely sell Chrysler cars. It was shut down, and consolidated with a Dodge/Jeep dealership. This was the same story, over and over again, where the government came down and shut down longstanding car dealerships.
The AP story says:
Treasury didn't show why the cuts were "either necessary for the sake of the companies' economic survival or prudent for the sake of the nation's economic recovery," said the audit by Neil Barofsky, the special inspector general for the Troubled Asset Relief Program, the $787 billion stimulus program known as TARP.

"Treasury made a series of decisions that may have substantially contributed to the accelerated shuttering of thousands of small businesses," investigators said.

Those decisions resulted in "potentially adding tens of thousands of workers to the already lengthy unemployment rolls — all based on a theory and without sufficient consideration of the decisions' broader economic impact," the report said.