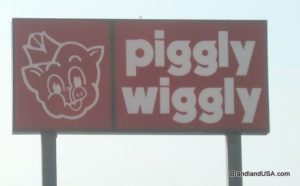 Kathryn Stockett's 2009 novel The Help has been a sensation of a bestseller. It broke through one major literary taboo, namely a white author writing in dialect. Somewhere after 1960, dialect, except by African-Americans, became pretty much off limits, except in special circumstances.
But that's a separate literary discussion.
One aspect of the story is the brands. I have been interested in brands in Southern lit since I took George C. Longest's class Southern Literature at Virginia Commonwealth University back in 1985. I was 20, just put out to pasture by College of William & Mary to take a year off. So I did something to redeem the situation, namely go to VCU and take classes I liked. It worked.
The class was brilliant, though I am sure Dr. Longest would not have approved of using an easy superlative. Instead, I should say that it suited me like a …. patch of mint planted right by the back porch, right ready for iced tea. We read Eudora Welty, Faulkner, Poe and even the hitherto politically correct short story Marse Chan, written by Thomas Nelson Page. Marse Chan, you see, was all in dialect, and it was no longer read as literature and only studied, as it was about a happy slave. But Virginians knew Marse Chan; it was one of those books that everyone had on the shelves.
The class came the summer of the failed New Coke experiment. And thereupon, it dawned on me to write a paper of Coca-Cola in Southern Literature. I got an A on the paper, excellent comments from Dr. Longest, and a mission from him to keep collecting instances where Coca-Cola helps set the literary scene. They were as numerous as the Coke Classic aluminum cans in Hanover Avenue apartment.
Now I need to find that paper!
The Help is the most classic of Southern lit, with all of the South's characters, lies, passions and outmoded codes of behavior. One thing that helps set the scene is the brand names that are mentioned. They help readers understand the characters. In addition, the colorful words, which become part of the vernacular, help to bring us to the Deep South in the early 1960s, before the Kennedy assassination.
The protagonist, at a certain point, goes to New Orleans' Maison Blanche and comes back with Emilio Pucci. This signifies the hegemony of New Orleans as the cultural capital of that part of the South. (Sadly, Maison Blanche was ruined by Dillard's, and the building has survived as a Ritz, apparently.
But most of the brands are of a less glam variety, including Sears, Shake N Bake, Tareyton. Not being a native of Jackson, I would not know if the Robert E. Lee Hotel and Tote Sum corner store were real, but they are certainly an archetype in the South. Here are a few of the other brands mentioned.
Crisco: Its many uses are detailed. In addition, someone is nicknamed Crisco because he is the "greasiest no count you ever seen."
Dr. Scholl's: Worn by one of the maids.
Jitney Jungle: A fancy "white" grocery store. It was shut down by Winn-Dixie. Bad move. Winn-Dixie, which got so much goodwill out of the eponymous movie, should resurrect the brand as a standalone prototype store, or even as a store brand. Remember, the Jacksonville people just don't understand the Mississippi folk.
Frigidaire: Miss Leefolt has a fancy double-door version. Back then, it was a brand of General Motors, and the sort of kitchen appliance a Junior League person might have if they were "reaching."
Good Nuff: A hair product. I couldn't find any information about it so it may be fictitious.
Ben Franklin: Most Southern towns had a Ben Franklin, where Skeeter bought a notebook. Ben Franklin, still around as an arts and crafts store, was a franchised variety store. It was hotbed of entrepreneurship, spawning a generation of retail leadership as Sam Walton was a Ben Franklin owner, as was the father in law of Macon Brock, who founded Dollar Tree.
Clorox: Used on the bathroom.
Hoover: A character was described as being "So country she don't own a Hoover."
Piggly Wiggly: Aibileen shops at the "colored Piggly Wiggly." Many chain stores, regional and local, became de facto segregated. For instance, in Richmond, Virginia there was a "white" Hofheimers and a "colored" Hofheimers. There were all sorts of rules; for instance, blacks could not try on clothes in many places, though they could buy things. Many stores and communities had unwritten rules about this sort of thing.
Buick: Figures in many scenes. To the Southerner, a Buick was the height of luxury and sophistication. Super luxury cars like Cadillacs and Lincolns were more flashy, and not seen as appropriate for upper middle class whites.
RCA: Skeeter's daddy carries a new RCA Television into the farmhouse. RCA was, of course, the brand that Elvis watched as he recorded for RCA. But it had a strong dealer network. The only quibble I have with Stockett on this is that except for small portable TVs, no person ever carried a TV into a house. Instead, TVs were installed by dealers, who had to connect them to outrageously outlandish antenna contraptions with rotators. The idea of buying a TV only comes about 10 years later. Interested in repair shops? Read our post on their necessity.
Harper & Row: The publishers who work with Skeeter to get her book on maids in Jackson published. The actual book The Help was published by G. P. Putnam's Sons, part of Penguin Group USA.
Want to see what the real Jackson? Visit the Jackson, Mississippi visitor bureau website. They advertise themselves as being a City of Soul. They should read Tourism Marketing Best Practices to get some ideas before the movie comes out from Dreamworks.