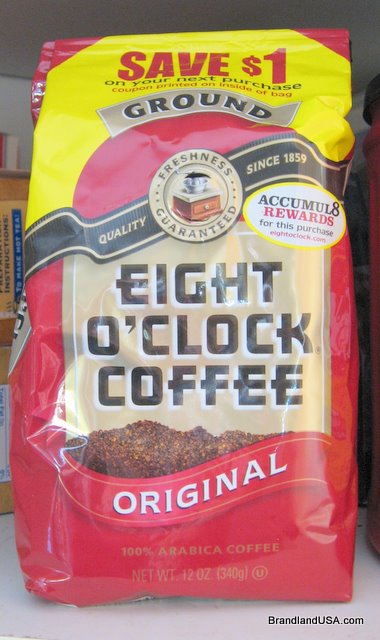 Just returned from my neighborhood Winn Dixie where a register printer-generated coupon informed me to look for the same taste, new look Eight O'Clock Coffee.
I was appalled at the change; I thought the company had decided to retain the venerable red bag.
The TATA Group, owners of the iconic Eight O'Clock Coffee brand, are preparing to release a new package. It features a lot of white (illustrated at popsop.com).  This package leaves one cold, being highly reminiscent of the recent rash of white private label designs, e.g. Dollar General and Walmart's Great Value.  It deletes the iconic red bag and emasculates the bold, oh so familiar logo around since at least the World War II era.
That little red package has come a long way, from a private label sold only in A&P to a national brand distributed by that company and even featured in some convenience stores and restaurants to a company under the TATA Group.
Despite the vicissitudes of former mother ship A&P, many never lost their taste for this coffee. It had a cult following long before Starbucks was even dreamed of by the first baby boomer. Such a following that A&P set up its Compass Foods subsidiary to wholesale it to other retailers after they withdrew from so much of the country in the 1970's and 1980's.
While I am sure TATA would like to rival J.M. Smucker's Folger's and Kraft's Maxwell House, they can probably keep wishing.  Changing such iconic packaging is almost akin to Coca-Cola's foolhardy New Coke scheme. The product stands out on the shelf as is, suggesting not only nostalgia to traditional customers, but class, quality, and solidity to new consumers.  I hope this isn't the death knell for a great brand.  (And, what, heaven forbid, will the line extensions like Bokar look like in these generic bags?) Shame on whoever thinks so little of this classic brand to remake it as a lookalike to trendy private labels.
This is about on the same level as Kraft's cheesy (no pun intended) redesigns of the mayonnaise and Miracle Whip labels to hip-hop statements and their repackaging of their bottled salad dressings and barbecue sauces in tacky, cheap generic-looking bottles. The barbecue sauce no longer carries the iconic stamped bricks. Even store brands retain the bricks…for now. What are these people thinking?