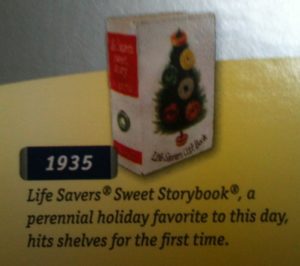 Of the classic Christmas candy items, the Life Savers Storybook is among the best known. It debuted in 1935, and has appeared every Christmas since then. Today, brands in the selection include Five Flavors and Wild Cherry.
Life Savers were founded in 1891 by Clarence Crane in Cleveland. It moved to New York, 1920 until 1984, they were made in Port Chester, N.Y.
In past years, Wint-o-green, Butterscotch and Peppermint have been part of the lineup. Tropical Fruit and Strawberry were also among the selections. Other candy brands have copied the "book" including Starburst and Skittles.
The "book" originally included ten rolls, five on each side. It is now down to eight, with the actual Life Savers made overseas, and Five Flavors the only option.
Through the years, the books, collected on Ebay, have included attached gifts including sample Little Golden Books, and Christmas ornaments.