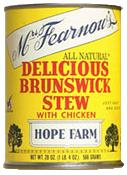 MECHANICSVILLE – While it is no longer made on Hope Farm in Mechanicsville, Virginia, Mrs. Fearnow's Brunswick Stew brand is still on the market. A great Virginia recipe, it has the proper ingredients for such a stew.
In fact, the only Brunswick Stew that beats it was the Rt. Rev. Joe Pinder's Brunswick Stew that he made at All Saints Episcopal Church in Virginia Beach. And that was back in the 1970s.
Mrs. Fearnow's was owned by Bost Distributing after being owned by Castleberry's. It is now part of Boone Brands of Sanford, N.C.