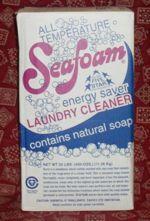 At first sight, it seems that our choices for American-made brands are decreasing.
Just two big beer brewers, three big cereal companies, and four large laundry detergent makers. Small laundry detergent brands seem to be the most challenged. How can small and local brands survive and even flourish against a force that chased Colgate Palmolive out of the U.S detergent market in the early part of the 2000's and pushed the divestiture of Unilever's USA brands and the formation of Sun Products in 2008?
But small brands, both new and vintage, are surviving and carving out new niche markets with a new generation of consumers.
There are scores of green product makers and marketers, boutique offerings in little fabric bags, imports from Mexico, China and Indonesia and a seemingly thriving environment of small businesses offering products we use everyday. While in most cases these firms are not bringing back a treasured old brand, they are reviving local and small business soap and detergent manufacturing and distribution in the U.S. and Canada.
Companies that produce "eco-friendly" products are the easiest to find in stores and on the internet. Easier to find than let's say imported brands or boutique items sold in stores like "Nancy Boy" in San Francisco. Then there are hand-made detergents sold on crafts websites like Etsy.com, basically mom and pop makers and sometimes mom and mom efforts.
Dapple baby products creators Tamar Rosenthal and Dana Rubinstein wanted to create products that would clean without toxic chemicals and remove milk residues from baby bottles and clean without residual suds. Country Save was started in 1977 by Elmer Pearson, a Borden Inc. chemist who invented the white glue that bears his name. Two dads started Babyganics to make products they felt were safe for their tots. Bio Clean's founder Jim Rimer wanted to make home and commercial cleaning products that would not create health problems for his customers.
Producers and consumers of these products are united by many ideals including the absence of animal testing, absence of phosphates, safety for children and especially babies,  offering concentrated products that are better value for consumers and reduce packaging and recyclable if sometimes refillable packaging.  Many of the products listed below are low suds or no suds, expressing the belief that suds are not needed for cleaning. Fragrances and colors that can cause skin irritation have been removed.
Included in the lists are green, food related and health related direct sales organizations. I would love to know what your experiences have been with these companies and their products.
Retail Brands
The below brands are targeted toward consumers who want social and environmental responsibility and may feel that "big" companies are not as responsible as the "green" brands are. They are also targeted to shoppers who want products that are "healthier" than "normal" products and are often unscented and color-free.
Attitude / Bio Spectra
Bio Clean
Blast Detergent
Cal Ben Soap Company
Charlie's Soap Co.
Citra Suds
Clorox Green Works
Country Save
Eco Me
Eco Products
Ecos / Earth Friendly Products / Venus Labs.
Ecover
Grab Green
Method
Mountain Green
Natural Choices
Nature's Sunshine
Nellie's All Natural
Moon Works
Ozark Mountain Laundry Soap
Pink Solutions / Earthcare
Planet
Restore the Earth
Selestial soap
Sun and Earth
Seventh Generation
Tropical Traditions (sells coconut based products)
Vaska
Green/Direct-Sales Brands
These brands are sold direct, some, as they say, are MLM, or Multi-level Marketing. Distributors often look to supplement their income with passive income from repeat sales.
Brands include:
Daisy Blue
J R Watkins available (also available through Target)
Melaleuca
Natureline Solutions (Canada)
Norwex
OxyFresh
Shacklee
WowGreen