Editor's Note: As of 2023, we could find no American toothpicks left either made in Maine, or anywhere else. Please let us know in comments if one knows of a new manufacturer.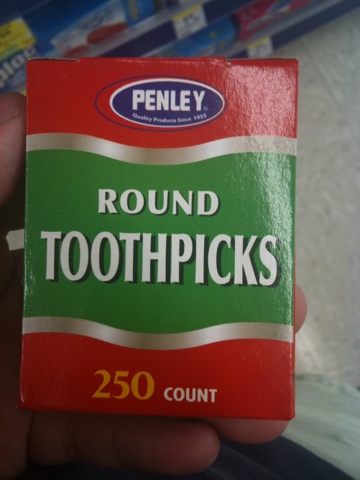 WEST PARIS, MAINE – There is something very American about toothpicks, and a great, American-made brand is Penley. Rather a shame that many brands sold today are made in China.
After all, how difficult is it to make a toothpick, and can't the production be automated enough? It is shameful that Jarden, which owns Diamond brand toothpicks, makes theirs in China.
The Penley company was founded in 1923 when Fred, Lester and Walter Penley began making clothespins from the nearby hardwoods, including those classic round ones.
The company grew, but by the 1950s, its market in clothespins was hurt by the sale of dryers. It expanded into specialty products, cutlery and matches. West Paris is a town North of Portland where many wooden items (including sleds) were made along the Little Androscoggin River.
But in 2003, it had to shut down its mill operation, and now operates as a seller of a wide variety of kitchen extras, including straws and now plastic clip clothespins. There are apparently no American clothespins left.
But the toothpicks, at least the ones seen in the stores this year at press time, are found as from Made in U.S.A.