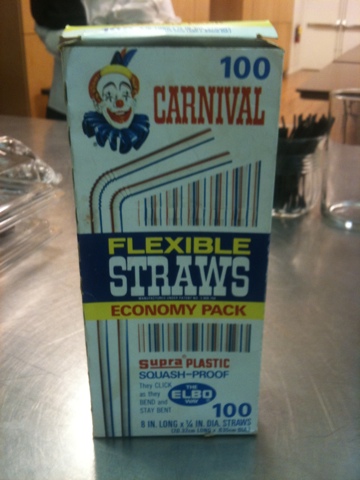 One of the classic American brands of drinking straws was Carnival Flexible Straws.
Founded in 1952, Carnival was one of many household brands that have disappeared in recent years. For a time they were made by Clear Shield National, part of Envirodyne. They were also apparently associated with Diamond Brands.
Roadfood.com says that they were purchased by Solo, but the trademark was not renewed.
The clown on the package was a bit creepy, but they were sturdy and the colors on the outside were bright. Some had the evocative name "Noisy Benders."
Better yet, they were strong enough so they did not crack when you used them and bent the top. Unlike current cheap ones, they were wide enough so you didn't have to work hard to drink with it.
The package here was found in our church kitchen. They advertise on the package that they are "Supra-Plastic" and "Squash Proof."
Below, a few varieties on sale with Amazon.
Would love to know from BrandlandUSA readers which brands are decent, and which ones are junk.