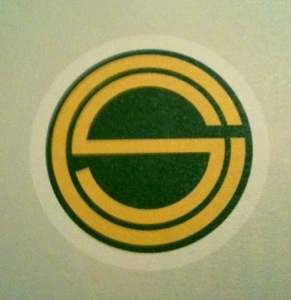 RICHMOND – Many companies do not know what to do with old identities and iterations of their brand. Very often, they just ignore them, and move on, discarding that valuable history.
Educational institutions, too, have the issue of what to do with old versions of their brand.
The Collegiate School, a Richmond private day school, has done an innovative thing with a 1920s version of their old logo. They have brought it back and used it as the graphic identity for their Centennial Campaign.
The logo was used by the girls school when it was on Richmond's historic Monument Avenue back in the 1920s. The old logo, seen at right, has a Deco feel, and looks amazingly hip for something 100 years old. Today, it looks fresh and new. The logo uses the school's green and gold colors, so it appears to fit with the current look quite well. Even better, it will probably sell well at the gift shop.
It's a smart move by V/P of Advancement Amanda Surgner and Director of Communications Elizabeth Cogar Batty.
The  Centennial Campaign will revamp the campus, a happy suburban mix of 1950s modernism and Virginia colonial materials, courtesy of the late Virginia architect Alan McCullough. The campaign graphic mailers pay homage to that history with an archival photos of the school construction.
The issue contrasts with Virginia Commonwealth University, also of Richmond, which recently dumped its early 1970s logo only a few years after it obliterated the name of Medical College of Virginia. MCV was one of Virginia's most esteemed institutions, and it continued the use of the name by calling it the "MCV Campus" of VCU and calling it "MCV Hospitals and Physicians" when it does billing and collections. How nice. At least it kept the brand around.
Miami Dolphins will also have an old version of the logo, if they go ahead with changing their famed logo around.
The question for legacy institutions? What sort of old graphic ideas do you have in your attic, ready to be dusted off, to raise money and interest with donors?