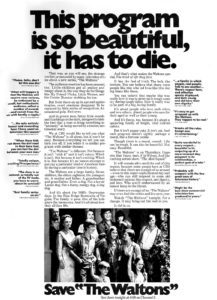 Many believe that a brand is all about contriving some image for a commodity, and once you do that, to a particular degree of coolness or hipness or edginess, you have a brand.
That is wrong. Instead, what is important is good taste, authenticity and eternal values. Seeing today's news of the death of Earl Hamner Jr., creator of The Waltons, brings that point home. There are no shortage of articles and stories on the work of Hamner, which will endure forever. As a Virginian and a graduate of University of Richmond, I take great happiness in the success of The Waltons, my only criticism of the show is that it seemed to have too many fires and disasters, and when they went to Virginia Beach, the beach had rocks.
So much rang true about the show, from the Baldwin sisters to the Depression mentality which still permeates so many lives in the U.S.
One aspect often forgotten is the story of the success of the show, which did not do well at first. CBS had put it against NBC's Flip Wilson, and it struggled. The savior of the show was CBS and its excellent cast, but the person who did much to keep it on the air was CBS's design director Lou Dorfsman. Dorfsman was a genius, and understood the Paley CBS brand in some ways more than Paley himself. Dorfsman did a gorgeous print ad celebrating the show, saying it was so beautiful it had to die. This was in the early 1970s, when the simple charms of the show were WAY different than the racy speed with which the culture was changing. Dorfsman was also the person who saved the CBS eye, when they wanted to ditch it after Paley left.
The ad is one of the greatest promotions in television history. And it worked. The copy reads thus:
That was, as you will see, the strange verdict pronounced by television critics about a new series, "The Waltons." The audience reaction has been unusual too. Little children get all smiley and weepy about it, the way they do for things like My Friend Flicka, Little Women, and the Cookie Monster stubbing his toe.

But from there on up in age and sophistication, overt emotions disappear. To be replaced by little smiles of recognition. An occasional gulp. Red eyes.

And in grown men, funny little sounds and fumblings in the dark, designed to hide the fact that a man is doing something as "unmanly" as being moved by a tender sentimental story.

We at CBS would like to tell you what "The Waltons" is all about, but it wont be easy. Because everything we tell you can turn you off, if you relate it to similar programs with similar themes.

"The Waltons" is different. Not because it isn't "with it" and it isn't cutesy. Which it isn't. Not because it isn't exciting. Which it is. But because it's an honest attempt to portray a particular kind of American family during a particular time in American history.

The Waltons are a large family. Seven children, the eldest 18, the youngest six. A mother and father. A grandmother and grandfather. Even a dog. Not a heroic Lassie dog. Not a funny mangy dog. A dog dog.

And its about the 1930s. Depression days. In the Blue Ridge mountains of Virginia. The family is poor. One of the kids plays the harmonica. And its all about how they face life.

It has the feel of truth. The look, the texture. You can believe that ere were people like this who led lives like this during times like these.

Its about people who love each other, and love others. About people who care for their aged as well as their young.

And its funny too because its about a sprawling family of bright, vital individualists.

But it isn't puppy cute. It isnt pat. And each program doesn't tightly package a moral, like a fortune cookie. Though there is a moral, after all. Life can be tough, It can also be beautiful. Not easy, beautiful.

"The Waltons" is on Thursdays. Opposite that funny man, Flip Wilson. And the exciting action show Mod Squad.

It will remain alive until the end of this season, because some people here at CBS believe that there are enough of us around — even in this super–sophisticated day and age – who can still respond to some old fashioned notions like respect, and dignity, and love. Who arent embarrassed by an honest lump in the throat.

If there are enough of us, "The Waltons" may even fool the critics and live next year.

Watch "The Waltons" tonight, for a change. It may bring out the best in you.

It did in us.
The campaign succeeded, the ratings grew, and CBS prevailed with yet another quality television show that would make TV history. Out of that came Lorimar, which launched Dallas and Knots Landing. The CBS brand grew because the network and its people made good decisions and promoted a moral, uplifting show that spoke to eternal values. CBS was filled with great people, and the design department, with people like Georg Olden, the African American graphic designer who did so much to execute the details of the brand.
The ad not only sold a product, but it sold the brand of CBS as a corporation that had a soul, had values, and was going to put them on the line for future gain, risking their profits for the right reasons. It was phenomenally successful. Indeed the pattern of putting on a good television show and letting it find an audience was tested and won with this show. It was an approach used by NBC and other networks to great success, particularly by the late programmer Brandon Tartikoff.
Viewers will miss Earl Hamner Jr. ever so much. The Columbia Broadcasting System can call up the better angels of shows like "The Waltons" as they plan their next fall schedule.