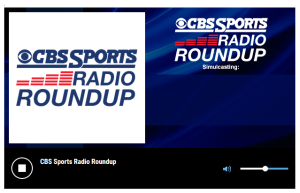 NEW YORK– CBS is the nation's most credible name in radio. This week, it debuted a new online experiment that marries the best of online and terrestrial radio. It's CBS Sports Radio Roundup, a 12-hour weekday online stream that aggregates the best interviews from across the CBS radio spectrum, taking you "around the dial of sports" and "from breakfast time to game time" and "we go from coast to coast and everywhere in between."
CBS has great radio assets, and its individual stations produce an incredible volume of audio content, much of it lost in space. The Roundup is interesting because it takes these assets and revalues them for a new market without diminishing the value of the live local radio station. It complements the CBS Sports radio network, which was launched in January of 2013.
I listened for a few hours of the opening day, and it sounded great, even for a first time out. Great to hear about a "snot and clobber" defense from CBS analyst Jason La Canfora. Many things these days need "snot and clobber."
Branding-wise, it is useful for CBS, as it respects and promotes the CBS radio brand, as well as promoting the each individual station brand, some of which are tremendously valuable franchises.
Hosts are DJ Sixsmith (6 to 10 a.m.), Greg Larnerd (10 a.m. to 2 p.m.) and Bryan Foti (2 to 6 p.m.).
It still has a few challenges. The local interviews from CBS radio stations, while relevant and useful, are more connected to their original show, and so they are not "packaged" with in and out cues from the original stations. Instead, the Roundup host must break into the conversation. It also needs a snazzier background sound and packaged theme song. However, each of these things will evolve as the show develops and evolves. I just hope CBS gives it time to develop, and spends a bit for a cool theme song.
The show does a number of things:
First, it uses the words CBS and Roundup. The word "roundup" is closely associated with CBS, as the World News Roundup, which began in 1938 with William Shirer, is still a viable program after almost 80 years. And it fits to explain what this show is.
It uses young talent to try something inexpensive. Morning host DJ Sixsmith is seemingly right out of Fordham, and he has an un-jaded enthusiasm that does not overshadow the local hosts.
It promotes the individual stations and their hosts and content. That is significant, as it promotes the value of the local angle to national sports, and the local hosts. As the hosts introduce each segment, they tell a bit about the station and the show. While the show is an experiment, it is also a promotion, and so has value even if it is not a big moneymaker at present.
It's not rank. Some sports radio has either a smart-ass tone or an edge. CBS's product, however, represents the brand of CBS by focusing on the collection of great interviews cobbled together. The individual local stations can be sassy, but the hosts give it a reverent edge.
It functions as a sort of "indexing" for all the CBS audio programming from across the country. Presumably, the prodigious amount of content that is generated by radio stations would need to be indexed and saved. This does the service for
It promotes CBS talent. For instance, Sixsmith was plugging interviews with Verne Lundquist and Gary Danielsen. The show is sort of a continuously updated promo reel that can be used by CBS ad salesmen.
It promotes the rest of CBS programming, spots that are created for other places and get extra exposure.
It further adds to the national CBS Sports radio network. People often say that network radio is dead, but CBS has a complete clock of talk sports shows syndicated nationally, in addition to the actual game broadcasts from CBS, with hosts like Tiki Barber and Greg Giannotti. Tying all the CBS stations into one unit adds to the presence.
I am not sure of the financial model for it, as its purely a streaming product. As the shows develop each day, perhaps that will become more relevant. Ads were for companies like Jared/Pandora Jewelry, Progressive Insurance, an IRS tax service and an addiction hotline.
It streams on the Radio.com app, and via radioroundup.com.
Below are the CBS stations featured:
WFAN-AM/FM (New York)
WSCR-AM (Chicago)
KRLD-FM (Dallas)
KILT-AM (Houston)
WJFK-FM (Washington, D.C.)
WZGC-FM (Atlanta)
WIP-FM (Philadelphia)
WBZ-FM (Boston)
WQAM-AM (Miami)
WXYT-FM (Detroit)
WJZ-FM (Baltimore)
KDKA-FM (Pittsburgh)
KHTK-AM (Sacramento)
WKRK-FM (Cleveland)