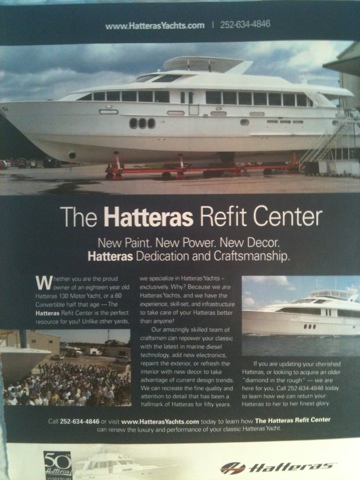 Perhaps it is not such an issue now, but back in the fall of 2010, Hatteras Yachts was advertising the "Hatteras Refit Center" in marine magazines. The idea was that you could take your Hatteras back to the yard, and get it rebuilt.
This sort of approach is one way to build brand equity, though the company has ceased advertising the idea, and as the economy has improved, emphasizing this sort of thing would not be that important. The idea is particularly good for companies that have had a large number of models, and owners. Hatteras, for instance, was part of the AMF sporting goods company, and occasionally that sort of ownership allows for uneven quality.
Boat companies are an excellent place for this sort of brand-building activity, which emphasizes the long term quality of the brand along with connecting you to the core strengths of the brand.
How companies deal with repairs, parts and the like says much about a brand. Any luxury Swiss watch brand knows its different products; someone who has a Patek Philippe watch can have the watch refurbished. In jewelry, this is an issue too; jeweler brands like Tiffany and Seaman Schepps are known to repair their old historic jewelry. It keeps a conversation going with customers, and fights the idea that goods are merely planned to be obsolescent.
When business slows down and your luxury product and brand is moving slowly, consider offering reconditioning services from the factory. It's not an issue now, but will certainly be one in the future.
While times are good, ensure that your parts and repair inventory is strong, and your repair personnel trained and thoughtful. It will pay off in current sales, as new customers like to know that a brand will stand behind their product. It also helps preserve the resale value of a brand, and anything that can ensure a high resale value is sure to increase the brand value. Think Toyota, Honda and John Deere.
Jewelers, clothiers, car companies and the like all can play the refit game.