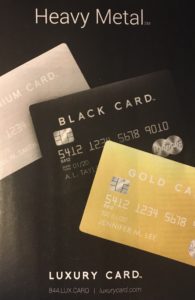 It is among the more misguided efforts at branding I have ever seen. Barclays, the great banking brand from 1690, is trying to sell a 'luxury' product without its own name on it. It is the Luxury Card; all references to Barclays are completely hidden, in an effort to go after rich urban hipsters. There is Black Card, Gold Card and Platinum Card.
A Reddit post explained the stupidity of the effort quite clearly, and better than I could.
"So far, it seems like they gave a shot at trying to do something nice, but the whole thing feels…a bit silly, and gaudy in all honesty. Maybe even a bit fake. I'm not sure who the actual target demographic is, but it seems like the type of thing that would fit in well with the fake showy types that like to hang out in Miami. I can't currently see it being worth it's $995 annual fee — the second highest one in the US to my knowledge (after the Amex Cent), especially when there are better options like the Chase Ritz-Carlton, the City National Bank Crystal Visa Infinite, and in terms of reward earning potential, as far as I can tell, the CSP (and certainly the Ink cards) seem better in practice."
Gotta love Reddit telling it like it is.
I am sure the product will do O.K.; companies like Barclays have such financial power in today's market that they can sort of push people, and the market, around, Wells Fargo perhaps the exception. But that is not to say just because the project works it is doing something good for itself. The problem is that it missed the whole point, which is to be a bank that people trust, and use the bank name to transact business. Barclays stock was $62 back in 2007, and in the greatest era of government freebie money for banks, it has been unable to get its stock price anywhere near that. Today, the stock ticker is barely ticking above $10.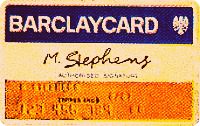 Of course, the bad news has been bad for the old bank in recent years, fines and all that. But that doesn't mean you drop a grand old name. Instead, you fix it and repair the damage that has been done.
Let us count the seven ways it is awful, though there are far more I could expand upon.
Barclay Brand Ignorance: Part of the idea of having a name like Barclays is that you can take advantage of the fact that you own the most famous, the most storied, the most trusted bank brand in the world. If the company's management does not seem to understand that, it is truly wasting the legacy. Perhaps, with monopoly power, we are getting to the point where it doesn't matter what the brand name is. Ilyushin? Antonov? They were all Soviet "brands" that sort of were out there, but really didn't compete. Strangely, Barclays is using its brand for an online savings account (a pretty good service, by the way). But that brand is marketed to everyday savers, and is not trying to be luxury. Seems they have it all backwards.
Dumb Differentiation: If you are going to have three card products, Platinum, Gold and Silver are certainly familiar categories, but these days is platinum the most expensive, or cheapest? Everyone uses these categories these days, and they are meaningless. Not original. And confusing.
Ignores Barclay's Card Legacy: The Barclaycard, separate from the Barclay's Bank, is well known across the world, and is in some cases better known than Visa and MasterCard, which are both name-changed charge brands, previously BankAmericard and Mastercard. Barclaycard is as well known as Visa, and to miss that point is to miss the whole reason why Barclays was an innovator. Read our piece from 2013, Barclays Eagle Flies into a Blue Snake Orb.
Uses Lame Names: Can you really get much brand equity out of marketing words like Luxury Card? It seems like the effort of a Marketing 101 project at a rural community college. And that is sort of insulting rural junior colleges.
Exudes Ugly: Can  you do nothing better than a black background in an ad? Why bother with colors if you just use black. And the "Luxury Card" type tracking seen above seems to be different from the  Black Card tracking. If you are going to do minimalism, at least make it consistent. So forgettable and fugly.
Heavy Metal: Really? That was the name of a dumb '70s magazine, as well as an odd subculture of bands who seemed to tear up hotel rooms and throw up and get nice girls groupies into trouble. Please, get a haircut and grow up, and leave a tip with the concierge and room service, instead of waking up all the guests that are near the presidential suite.
Overcharges: I mean, $995 to try to attract the luxury user? Of course this is a ripoff of the Chase Sapphire card, I guess. Barclays was a bank started by a Quaker. How about channeling back to that time to see how the faithful banked back in the day.
The most egregious fact of the card is that if does not connect its brand to the cards, at all. The U.S. cards bear an odd orb, that sort of bastardized AT&T snake globe. The distinctive styling of the British Barclays is nowhere to be seen. This is particularly problematic when you have a stock price that is low; what better way to promote your company than on your product. Barclays is like Selfridges, Jaguar, Land Rover.
Is the credit card snake taking over?
Please stop make it stop, Barclays, and instead take advantage of your name, one of the greatest consumer brands in the world. Run some promos on PBS, bring the eagle back. Please let Downton-loving Americans have just a bit of Anglo-snobbery as they pay their whopping $995 yearly fees.