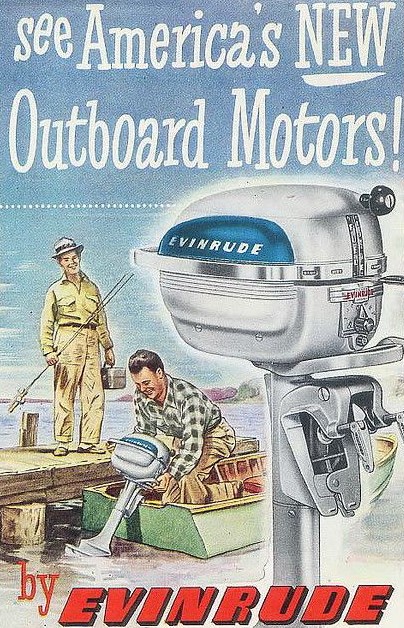 STURDEVANT, Wisc. – Blame it on COVID-19? And say goodbye to another glorious piece of America. This time it is the Evinrude outboard motor, since 1907 a part of U.S. boating life ever since its invention by Ole Evinrude.
If American outboards had personalities, Mercury was the speedy one, Evinrude the stalwart style leader and Johnson the indestructible, strong and practical "Sea Horse." In the mid-70s, there were a few major players in outboard motors, including Chrysler Marine, Mercury, Eska, Sears and OMC's Johnson and Evinrude brands.
BRP, or Bombardier Recreational Products, announced the death of their brand last week. The press release headline:
"BRP Advances Marine Technology by Focusing on Boats and New Technologies"
The notice did not mention the Wisconsin mass layoff of over 300 employees, employees of the originator of outboard motors. Instead, they said the facility will be "repurposed for new projects to pursue our plan to provide consumers with an unparalleled experience on the water."
Their solution is sufficiently nebulous, namely a "Build, Buy, Transform Marine" strategy, which means they are going to keep buying boat companies, including recently purchased Manitou and Alumacraft, and outfit those boats with Mercury engines.
"Our outboard engines business has been greatly impacted by COVID-19, obliging us to discontinue production of our outboard motors immediately. This business segment had already been facing some challenges and the impact from the current context has forced our hand," said José Boisjoli, President and CEO of BRP, in a press release. "We will concentrate our efforts on new and innovative technologies and on the development of our boat companies, where we continue to see a lot of potential to transform the on-water experience for consumers."
It perhaps, should have been expected.
The American outboard industry has been in a long decline. After World War II, the small runabout with outboard was a fixture of every bay, creek, river and lake in the United States. Retailers like Sears, and manufacturers such as Grumman, made affordable boats for the masses. In 1950, Evinrude's sister company Johnson was so affordable that they even advertised to boys as consumers, such was the egalitarian reach of the outboard.
There are many culprits. We can first perhaps blame the 1970s Arab oil embargo and recessions, which put pressure on the industry. There was also a class issue. Such was the venom against boating that the Department of Energy, under then President Jimmy Carter, planned to ban weekend boating. Environmental regulations also made the construction of docks expensive, which meant that only the wealthy could afford to build them.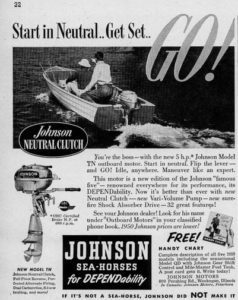 In September of 1983, then OMC Chairman Charles Strang testified to Congress about the about the plight of the industry. M.I.T. educated Strang, who died March 11, 2018, had an egalitarian understanding of boating. He reminded Congress that a majority of boaters were not wealthy yacht owners, but instead were lower to middle income families, who boated as recreation, and needed trailers and boat ramps, not expensive marinas.
That egalitarian vision did not ultimately play out. Boats got progressively more expensive and complicated, mostly because of zoning and environmental regulations, which necessarily added costs. OMC brands Evinrude and Johnson became mere re-badges, and not discrete competing companies. There was also fashion, expensive designs like Wellcraft's Miami Vice Scarab created a demand for speed and power. Imports also began; Honda, Kubota, and Kawasaki entered the market, beginning first by crushing the low end of the market.
The company stalled in the 1990s, becoming a boat builder and an engine builder, which are vastly different businesses. With pressure on management, the company sold out in 1997. While Detroit Diesel's Chairman Roger Penske was a white knight bidder, the company was won by a group financed by George Soros, who knew nothing about boating.
Their ownership not last long, and in February of 2001, the aircraft and snowmobile company, Canada's Bombardier, bought them out. They unwisely ended production of the Johnson outboard in 2005.
In the last decade, many of the Evinrude engines weren't even made in the U.S. In 2012, Bombardier began to source motors from Tohatsu to fill out the Evinrude product line. However, this upset Mercury Marine, which had also been in joint venture with Tohatsu Corporation for more than 20 years. Today, Mercury's small engines are mere Tohatsu re-badges.
The company does sell some Evinrude and Johnson merchandise, including hats and tees. We would suggest that they develop this identity, for a time when they are ready to re=introduce the brands.
Below, a CBS Sunday Morning story of Ole Evinrude, the legendary founder.