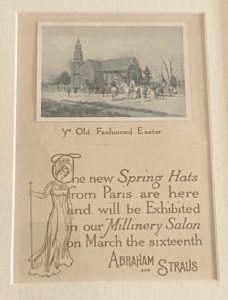 A happy "Ye Old Fashioned Easter" from that very special Brooklyn Emporium, Abraham & Straus. Back in 1910, they had Millinery in three different places, and in three types. The untrimmed millinery was on the main floor, east building, 273. Ready to wear millinery was on the Mezzanine Floor, East Building, 280. There was also a millinery section at Misses' Cloaks and Suits, Second Floor, center East Building, 216.
The descriptions come from a guide to the store which measures less than an inch wide, and includes every department and its location.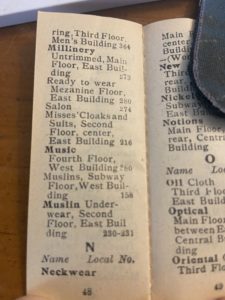 Beginning with three clerks, the store in 1910 employed between 5,000 and 6,000, not including connected factories. Total acreage of floor space was 20 acres. Because of the subway station you could travel between the store and San Francisco without an umbrella. And today's woke corporations have nothing on A&S; back in 1910 you could go to the Adjustors Desk on main floor, and have interpreters in 18 foreign tongues translate into 19 languages, including Roumanian, Turkish, Armenian, Hindoo and Hebrew. Never to worry about staffing; there were half a hundred men and women who were at the customers' disposal.
The card pictured here featured Bruton Parish Church in Williamsburg, Virginia. The colonial postcard image is by an unknown sketch artist, and features a colonial Virginia Easter scene.
The store is now part of Macy's, and remains on the list of surviving downtown department stores from the grand age of retailing. It would do well to go back to the A&S name.