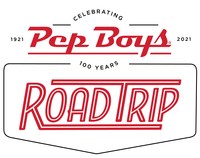 PHILADELPHIA – To celebrate its centennial, Pep Boys will launch a promotional road trip that will, among other things, emphasize its new role as a repair shop, and not a parts retailer. But it seems that their founding mascots, Manny, Moe and Jack, might not be along for the ride.
"Since Pep Boys was founded 100 years ago, our mission has been to make car care more accessible. For our founders, this meant getting drivers the new auto parts they needed to repair the recently invented automobile," said Brian Kaner, CEO, Pep Boys. "Our centennial is the perfect time to honor our heritage, celebrate our success, and jumpstart our future by hitting the road to reconnect with the Team Members and customers."
There is one connection missing, however. Manny, Moe and Jack. The three figures were on the front of every parts store across the U.S., rendered in large fiberglass figurines, and animated in their commercials. But they are not painted on the bus, and do not appear anywhere else in centennial promotions online. The situation is analogous to Jimmy Dean Sausage, which for a time banished its founder, singer Jimmy Dean, from advertising.
The Pep Boys were actual people. Founder Maurice "Moe" Strauss found friends from the Navy—Emanuel "Manny" Rosenfeld, W. Graham "Jack" Jackson and Moe Radavitz — and in 1921, they opened a store on North 63rd Street in Philadelphia. For decades, and as the company grew, their entire promotion was based on the three mascots. A full company history is HERE.
The Pep Boys were registered as a U.S. Trademark on Feb. 13, 1934. The certified first use of the term Pep Boys – Manny, Moe and Jack was in 1933.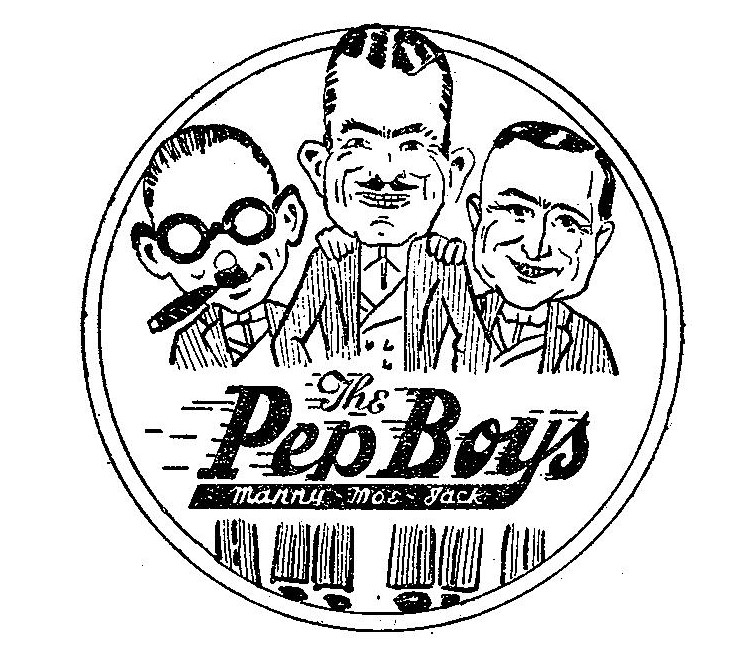 Through the decades the cartoon images were ubiquitous in the company's advertising and in their retail stores. Manny, Moe and Jack became slightly woke in 1990, when the company unwisely removed the cigar of Manny, in a publicity stunt. Since then, the company has continued to allow them a prominent place in marketing.
In their 90th Anniversary, in 2011, the company promoted the search for historic merchandise, and played up the mascots. "We believe that Manny, Moe & Jack are the heart of the brand-they are the icons that differentiate us from the competition and their legacy lives on," said Mike Odell, the former Pep Boys' president and CEO, in a statement released a decade ago. "In the past 90 years, Pep Boys was witness to many of the greatest American achievements. Through a mixture of hard work and good luck, we've had great fortune over the last 90 years and are proud to be considered an American institution."
The Pep Boys make a small appearance (not by name) in the beginning of a promotional centennial video the company commissioned, though not by name. Notice that the cars and their demographics reflect current advertising sensibilities and trends.
The Pep Boys Centennial Road Trip experience, sponsored by Cooper Tires, will make hundreds of stops nationwide, kicking off in Orlando on Friday, June 26, 2020.
Pep Boys, owned by Icahn Automotive, is part of a group of automotive brands in a portfolio that include AAMCO, Precision Tune, Auto Plus, Just Brakes and Consumer Auto Parts. The company made news in March, when it leased its California parts stores to Advance Auto.
You can follow the centennial bus at pepboys.com/centennial-celebration
Below, a history from 1994. It shows a more detailed view of the company.