KANSAS CITY – While Hallmark has issued more than 250 new Hallmark Keepsake Ornaments during their annual Keepsake Ornament Premiere promotion that began July 10, 2021, including a 40th Anniversary MTV logo, it appears that Golden Girl Blanche Devereaux might be a 2021 Christmas hot number. Two days in, it already appears that Blanche is no easy love, and is sold out online. Blanche is Hallmark's new Golden Girl for 2021; Rose was a previous year.
With the ornament, Blanche spouts a few saucy but innocent lines from the show, which plays on Hallmark Channel.
Stores across the U.S. were inundated over the weekend for the beginning of their yearly Hallmark Christmas promotion. For instance, Ellen's Hallmark at University Walk Shopping Center in Bradenton, Fla., already had 125 items on Keepsake customer wish lists, according to sales clerk at the store. They will continue to inform customers as the particular items come in to the store, she said.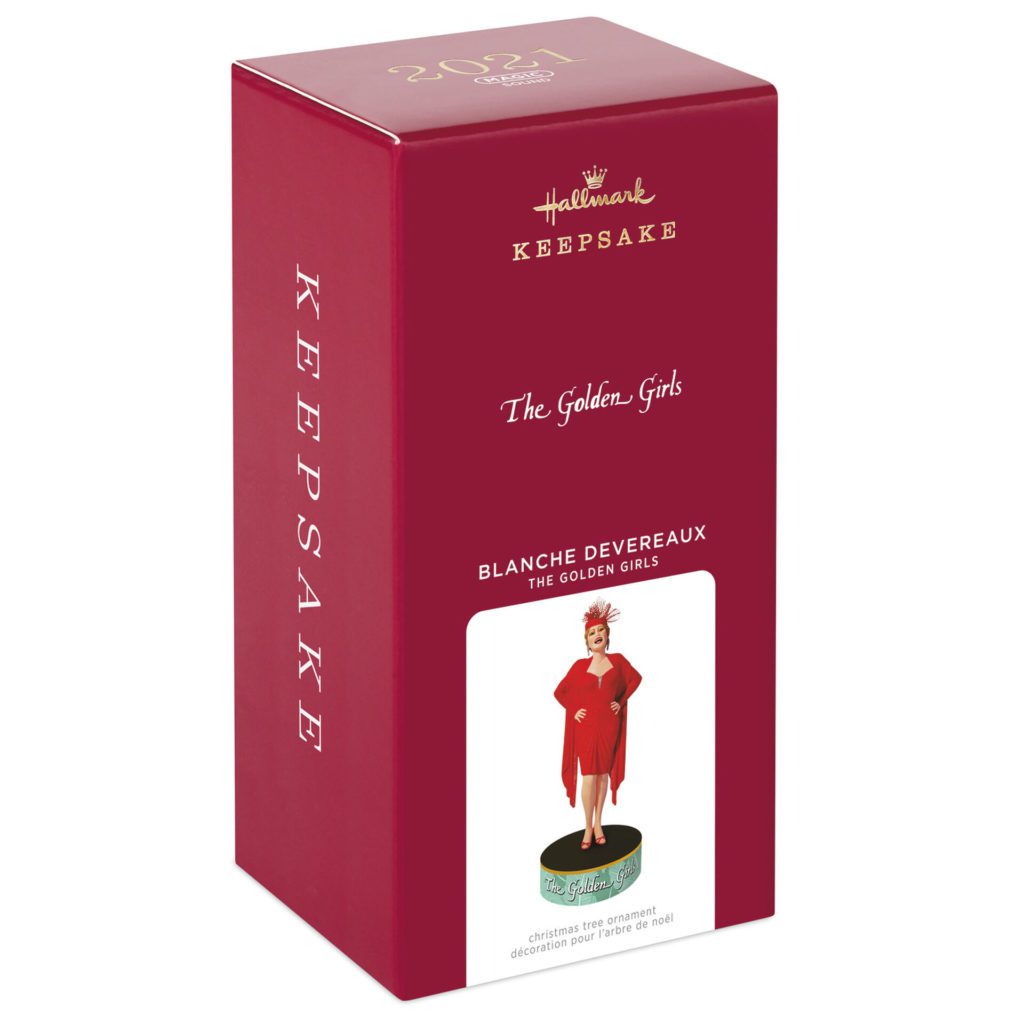 The company's strategy is to sell items in limited quantities online, and then promote the nearest Gold Crown store where it is available, if you put in your zip code. The company has two release dates for availability, including July 10 and Oct. 2, to encourage the habit. This is a wise online/in store scenario for any retailer that offers product online and in stores.
Since 1973, Hallmark has issued yearly Keepsakes Ornaments. Each year, the company has branded co-promotions with movies, sports teams and cartoons, in particular Peanuts and Disney. A big brand connection for 2021 is the 40th anniversary of MTV; the MTV ornament will light up and play I WANT MY MTV.
For 2021, other brand license tie ins include General Motors' 1971 Pontiac GTO and 2020 Chevrolet Corvette, Stellantis' Dodge 1966 A-100 truck and Jeep Gladiator Rubicon, and John Deere's 3038E tractor. Stellantis' defunct brand AMC is also licensed for a limited edition keepsake. The sportscar promoted is the 1971 AMC Javelin AMX, which celebrates 50 years.
Toy tie ins for 2021 include Lego, Crayola, Lionel and Fisher-Price, a brand sold by Hasbro. The ornament is the Fisher-Price Rock-a-stack ornament. There are also Hasbro Battleship and Twister board game ornaments; the Twister is already sold out online. The Milton Bradley game brand, however, is left off.
This licensing is not only a good promotion for companies, it also shows consumer demand for particular brands and defunct products.
Hallmark introduced Keepsakes Ornaments in 1973; since then the company has introduced over 8,400 designs in more than 100 different series. They are available at Hallmark Gold Crown stores nationwide and online at Hallmark.com.