MIAMI – Burger King is going back to what made it what was, namely flame broiled burgers, in what it is calling a "Royal Reset" where the company will "Fuel the Flame."

In recent decades, the Home of the Whopper lost its way. In the 1980s, Burger King was the second largest fast food chain in the U.S., built on the simplicity of its offerings, and the ability of customers to get their burgers with what they wanted on it.
Even the layout of a Burger King was designed for efficiency. There was only one cashier; customers lined up, and others fulfilled the orders, which would allow the customers to pick what things they wanted on their hamburgers. The idea was so successful and revolutionary that McDonald's eventually decided to let customers pick how they wanted their own hamburgers.
A key part of that unique appeal was that its burgers were flame broiled, an idea the chain is returning to promoting with their $400 million Royal Reset plan.
Another key note from the release. Plant based burgers have nary a short mention in the release, almost an afterthought, a signal they are not working for the chain.
No Longer Second Burger
Currently, Burger King is the eighth largest fast food chain in the U.S., behind McDonald's, Starbucks, Kentucky Fried Chicken, Subway, Domino's, Chipotle and Pizza Hut, Burger King. Just behind Burger KIng are Taco Bell and Chick-Fil-A.
To help regain market share, they will invest $400 million over the next two years, including $150M in advertising and digital marketing. There will also be $250 million capital investment for a "Royal Reset" involving restaurant technology, kitchen equipment, building enhancements and high-quality remodels and relocations.
The company says 93 percent of franchisees have endorsed the plan.
They need something; the chain is struggling under inflationary meat costs, and worker expenses.
The company said that it built a "multi-year menu roadmap that is Guest-led and brand focused. Burger King will invest in premium branding to reaffirm the elevated position of its flame-grilled Whopper® and is developing new flavor extensions, while also focusing on Team Member training and rolling out kitchen enhancements to ensure exceptional execution at the restaurant."
The company also highlighted a "destination worthy" chicken sandwich portfolio, as they launch the Royal Crispy Chicken, a premium chicken sandwich. Part of the effort is "a simplified menu and improved operations."
Buried in the release is only a cursory mention of plant based food product offerings, which are not popular, and have come to be avoided by a majority of fast food customers.
Quick Burger History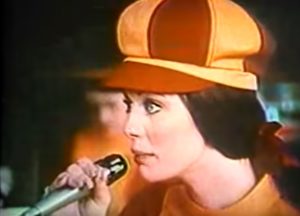 The chain dates from 1954, when James McLamore and David Edgerton opened a Miami burger joint and franchise called Insta/Burger. They gained their own identity by adding a chain broiler, which freed employees from standing in front of a hot grill with a spatula. The king was always a part of the identity; the 1960 logo had a King sitting on top of a burger.
In 1967, Pillsbury reinvented the chain. They added the word-burger design logo. The Whopper took center stage "The burgers are bigger at Burger King." and then the immortal "It takes two hands to handle the Whopper."
Pillsbury took the chain from 276 restaurants to over 4,000 in 1984. By 2021, there were 17,999 restaurants and this year, 2022, there are 18,491. Below, a reel of commercials from the 70s and 80s.
Through the late 1970s and 1980s, almost every single America knew the Burger King slogan, and could sing it.
Hold the pickles. Hold the lettuce. Special orders don't upset us. All we ask is that you let us serve it your way….Any way you think is proper, have it your way.

1970s ad
Decades on, the original commercials were so a part of the fabric of American life that they were parodied on Mad TV by comedienne Anjelah Johnson, in her Bon Qui Qui skits. The skits added "Rude" and "I will cut you" and "Welcome to King Burger. Where we can do it your way but don't crazy," to the vernacular.
The chain dropped the slogan in 2014, amid flat sales, and a purchase by private capital.
The Burger King Plan in Depth
The company's PR Newswire release gives a long description of how the plan would work. Essentially, the company will encourage franchisees to get major store upgrades in exchange for better royalty rates. The current rate, according to the release, is 4.5% and it goes to a maximum of 6.0%.
"The Burger King $250M investment plan will include two important components. The first involves investing $50M of capital over the next two years alongside a comparable co-investment from Franchisees in a restaurant refresh program touching ~3,000 restaurants across restaurant technology, kitchen equipment, and building enhancements. These investments are designed to ensure our restaurants are ready to deliver an exceptional Guest experience as we work to drive traffic back to the system aided by our menu enhancements and Fuel the Flame advertising investment.

In addition, Burger King is launching a Royal Reset remodel program that provides access to $200M of funding for ~800 restaurant remodel projects over the next two years. As part of this program, the company is changing its incentive structure, which has historically focused on advertising and royalty rate discounts for up to seven years. The Royal Reset remodel program is designed to improve returns on capital for our Franchisees by providing more substantial baseline incentives, access to additional contributions in exchange for a higher royalty rate election, and funding of these incentives in upfront cash at the time of remodel completion. The program will also offer greater financial support to better operators, adding further incentive for Franchisees to improve operations across the system.

The Royal Reset remodel program represents a shift toward higher quality remodels and creates a viable path toward modernizing the system. Through a more thoughtful approach and increased funding, we are establishing support for our Franchisees to address their most important investments and lay the foundation for sales and profitability growth in the years to come. This will be the first step toward a more consistent, long-term cadence of portfolio reimaging that is focused on smarter investments and executing with quality to drive sales growth and attractive returns on capital for both Burger King and its Franchisees.

Reclaim the Flame Press Release, PR Newswire
About Burger King and Restaurant Brands
Founded in 1974, the company is a unit of Restaurant Brands International. The company also owns Tim Hortons, Firehouse Subs, and Popeyes, which just celebrated its 50th Anniversary.