OAKLAND, Calif. – Courtsmith, the sports uniform brand founded by Courtney "Court" Smith, has won a $300,000 investment from ICA, a non-profit that supports investments in companies to "close the racial and gender wealth gaps" with a vision of creating an economy that works for all.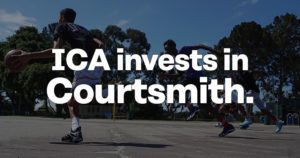 Smith began by selling clever uniforms and basketball apparel for local youth teams. It will be launching a new women's collection this fall, along with a footwear line.
ICA first partnered with Courtsmith when the company participated in the Accelerator at ICA, the high-impact business accelerator program for Bay Area companies
"Court's vision, commitment to his business, and mission-alignment are a great fit for the Growth Fund portfolio," said John Gough, Chief Investment Officer at ICA, "We are thrilled to lead this round and excited to see what's coming for the brand under Court's leadership," he added.
Before joining ICA's investment portfolio, Courtsmith participated in the Accelerator at ICA program. To date, five Accelerator companies have received growth funds from ICA. Courtsmith joined Progeny Coffee, Renewal Mill, Something Better Foods, Don Bugito and Goal Five as the sixth Bay Area company to receive investment this year, bringing a total of $2 million, more than doubling the size of their investment portfolio.
The $300,000 equity investment is a convertible note. The company will use ICA's investment to expand its marketing spend, boost apparel manufacturing, and launch its forthcoming shoe line. As part of the investment ICA will take a seat on Courtsmith's board. Jack Russi, a national managing partner at Deloitte, is set to take on the position.