LAKE WALES – While the best-known national maker of orange juice, Tropicana, lost favor with one of the world's largest beverage companies, new brands continue to win shelf space.
The latest entrant is Coral Reef, made by the Citrus World Inc., the Florida grower co-operative. Citrus World already sells Florida's Natural, Donald Duck and Vintage. This more recent entry brings a sweeter, tartier taste, at a premium price. Currently, it shares shelf space at Publix with a growing selection of brands, including Indian River, Uncle Matt's and Natalie's.
Coral Reef has a snappy logo, bright colors, and an actual taste that is very close to what you would get if you squeezed it yourself. It has the feel of a micro-brew, not a mega-brand.
Its appearance at Publix is a time of great change in the consumer orange juice market. Last fall, Pepsi sold Tropicana for over $3 billion to the European company PAI. The Bradenton, Florida company was a pioneer in refrigerated orange juice.
Just a decade ago, the market was dominated by Tropicana (then a Pepsi product) and Minute Made, a Coca-Cola product. The advent of Florida's Natural, however, changed the industry, as consumers realized that not only did orange juice not need to be reconstituted, it could have a single state of origin. Coke's Simply Orange, also not reconstituted, is sold at in a clear plastic bottle, similar to Coral Reef.
These multiple brands come at good time for juice, which in the past had been sold more as a commodity, where cheap store brands seemed to be an acceptable choice for consumers.
Juice has had some bad press, of late. There are even some diets that erroneously rule it out.
A trend to un-reconstituted orange juice has also sidelined what was an American tradition, the frozen reconstituted orange juice of Minute Maid.
Citrus World Inc. dates from 1933 and is one of the largest Florida citrus cooperatives, with a membership of 14 grower associations. The entire cooperative is made up of more than 1,000 grower-members who own more than 60,000 acres of groves in Central and South Florida. Their orange juice brands also include the non-premium Bluebird, which is reconstituted, and also sold in cans.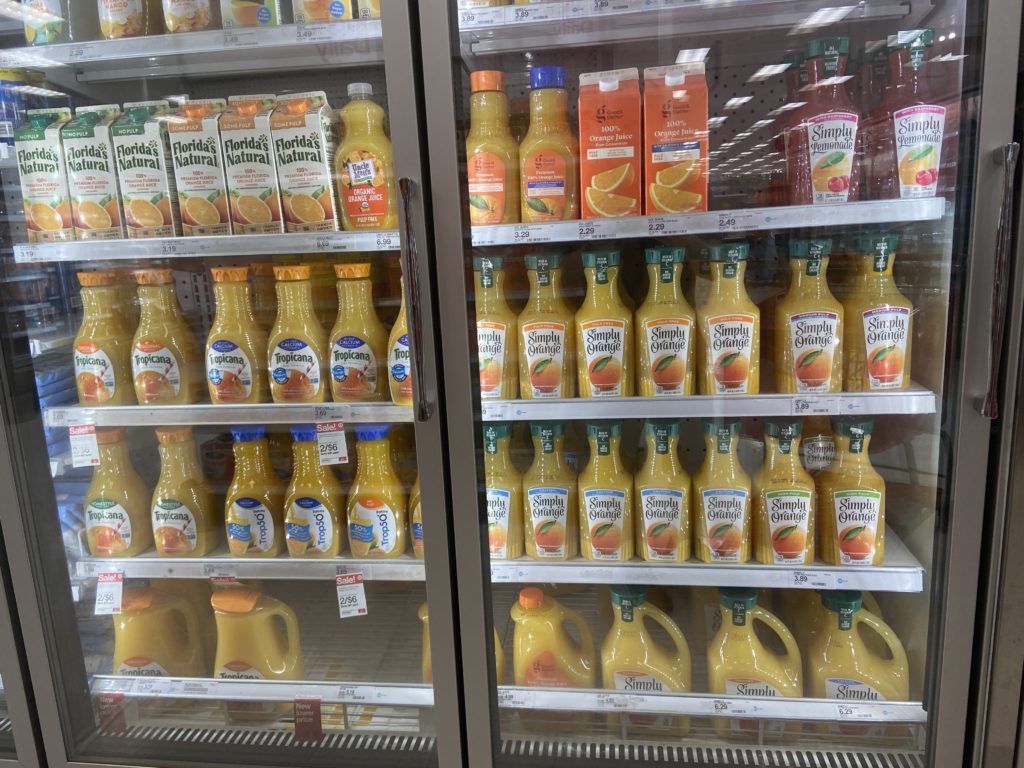 Citrus World has two plants in Central Florida. They process and package in Lake Wales; their Umatilla plant handles packaging.