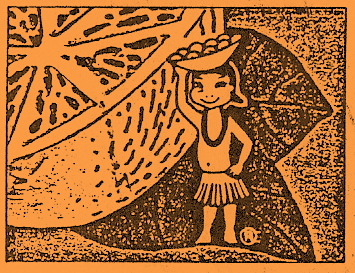 BRADENTON – We grew up and were always pals with Tropic-Ana. She not only graced the packages of Tropicana, but she was on the outside of the bright orange CSX freight trains that ran from Palmetto/Bradenton Florida to packaging plants up north.
Yes, she was topless, but somehow it was covered over by a nice sort of necklace that always stayed positioned PERFECTLY.
She was gradually phased out, somewhere in the 1990s, though the date is uncertain. She does appear in the Tropicana online company history. Today, the Pepsi-owned brand is best known for an orange with a straw coming out of it.
We read from the Under Consideration design blog that Tropicana is redoing their packaging again. It is fairly handsome, but minimalist. Not too bad, but we really want Tropic-Ana back.
Ana did return for a time for the company's 50th anniversary in 2003. Pepsi launched a contest to find the "next" Tropic-Ana, and also issued a 50th anniversary carafe featuring Tropic-Ana. According to a 2003 press release, Tropic-Ana was based on Chrissie Kesten Pool, who modeled for the drawing and played the role of mascot.