PARSIPPANY, N.J. – Two years ago, B&G Foods annouced that they were dropping the "Mrs." from the Mrs. Dash line of seasonings. It is now fully known as Dash, though consumers still call it Mrs. Dash.
The question is why? What's wrong with being a Mrs.?
Mrs. Dash was originally a product of Alberto-Culver, and created by a marketing exec. The idea was that about 14 spices together could season just about as well as salt, which was then being vilified as a highly dangerous substance.
Mrs. Dash was an immediate smash product, unbiquitous in almost every home. As opposed to having a single spice, where you had to have dozens of bottles on the shelf, the concoction of Mrs. Dash could add excitement and flair to any dish, by its mere appearance. The wife at home, what used to be called a housewife, was not about to mix 14 flavors together.
With Mrs. Dash, the same company trusted with hair products could provide such expertise by the mere purchase of a container. At the time, Alberto-Culver Company sold brands that included Alberto VO5, St. Ives, TRESemme and Nexxus Salon Hair Care. When the publicly traded Alberto sold out to Unilever, its food brands went to B&G.
Not only was it a great product, it was the same size as a spice bottle, so it would fit on every spice rack.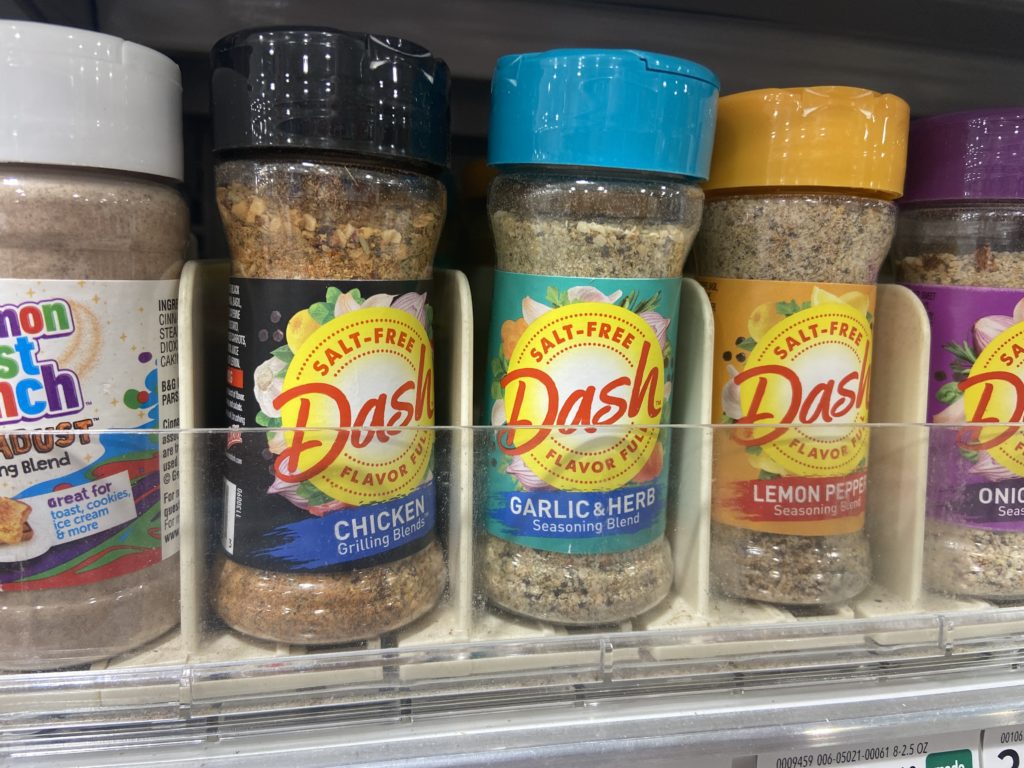 "The Dash line of salt-free seasonings will continue to allow consumers to elevate their cooking quickly and simply – in a dash," said Julie Gould, Marketing Director of B&G Foods, in a press release from February 20, 2020. "For 30+ years, the Mrs. Dash brand has been a trusted salt-free seasoning staple in American homes and we're thrilled to roll out the new Dash branding and products as well as a partnership with Joy Bauer, one of the most trusted and sought-after health experts in the country."
The unfortunate loss of the Mrs. is mostly unnoticed by consumers, who really don't closely see the product, but the Mrs. is definitely gone.
Looking back on the decision, one wonders the why. Are women bad? Are women no longer allowed in the cooking process, now that men have taken over the chef industry? Is it bad to be a Mrs. these days? And why was there not Ms. Dash, Mr. Dash and the like, if that were the case?
The decision was not positioned as being woke, but it comes at a time when women are being shunned from women's sports, and even pregnancy.
According to Food & Wine, Alberto-Culver exec Carol Bernick also develped the equally well known flavoring Molly McButter, also a household name.
Other current B&G brands include Back to Nature, B&G, B&M, Cream of Wheat, Green Giant, Las Palmas, Le Sueur, Mama Mary's, Maple Grove Farms, Dash, Ortega, Polaner, Snack Well's and Spice Islands.
In the last 5 years, B&G stock (NYSE: BGS) has had highs of around $38 and is currently trading at $24.95.
Mrs. Dash, it's time to return. Or perhaps marketing can use the term Mrs. Dash, along with their inane Dash moniker.
Below, a 1986 ad.