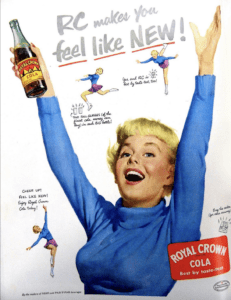 In the continuing search for product extensions and new ideas, Keurig Dr. Pepper has launched yet another variety of Royal Crown Cola, RC Berry & Creme.
RC, in spite of being the nation's "third" cola, has never been afraid to try new product extensions. Royal Crown, founded in 1905, claims not only the first canned cola, but the first diet cola, Diet Rite, and the first caffeine free cola, RC 100.
The new short-run berry variety of cola appears in the aisles of Dollar General, and other discount retailers. It uses a purple color, which echoes some of their advertising in the 1960s (see bottom image).
Famous in 3rd Place, Overseas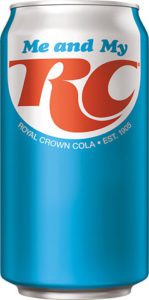 Royal Crown is one of the dozens of U.S. drink brands owned by Keurig Dr. Pepper. Other brands in the portfolio include 7up, Sunkist, Snapple, Vernor's, Stewart's, Yoo-Hoo, Schweppes, Canada Dry and A&W.
Internationally, RC is sold by RC Cola International. Like so many brands, RC is popular overseas for a myriad of vastly different cultural reasons, mostly due to the success of local bottlers, and the cachet of America. The Philippines, for instance, is a strong market, and the company is going into Nepal.
New marketing for the international version of Royal Crown has come after the Feb. 8, 2019 sale by Cott Corp. sold its soft drink concentrate division and its RCI International division, Cott Beverages LLC, to the Refresco for USD $50 million, who in turn sold the RCI worldwide branded activities to the entity RC Global Beverages Inc.
While the approach of RC in the U.S. is decidedly downmarket, the international version positions the cola differently. The international company recently launched a new craft cola called Royal Crown Cola. The brand harnesses Columbus, Georgia history and lore of RC, positioning it as yet another old Georgia cola. The overseas Royal Crown brand position stresses individuality. They say, "While other colas simply go with the flow, RC Cola continues to stand for individuality."
Outlasted Hundreds of Colas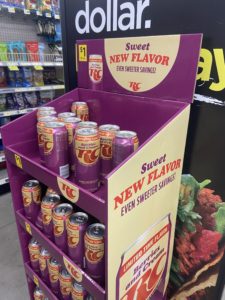 RC has outlasted so many other Coke copycats of the 20th century. Today, some brands like Double Cola (1933) and Jolt Cola (1985) have found a niche. Overseas, and for a short bit of time, Virgin Cola once rivaled Coke and Pepsi in the U.K. Shasta was the discount brand, and somehow survived in hospitals.
The biggest competitor traditionally to Coke and Pepsi, has been store brands, under dozens of names like Walmart's Sam's Choice; Aldi's Summit; and Winn-Dixie's Chek. Safeway, once the nation's largest supermarket, has had a variety of cola and soda brands, including Go2Cola and Signature Kitchens. Safeway's old, and legendary soda brand was Cragmont. Coca-Cola's Tab brand was just killed off by the company.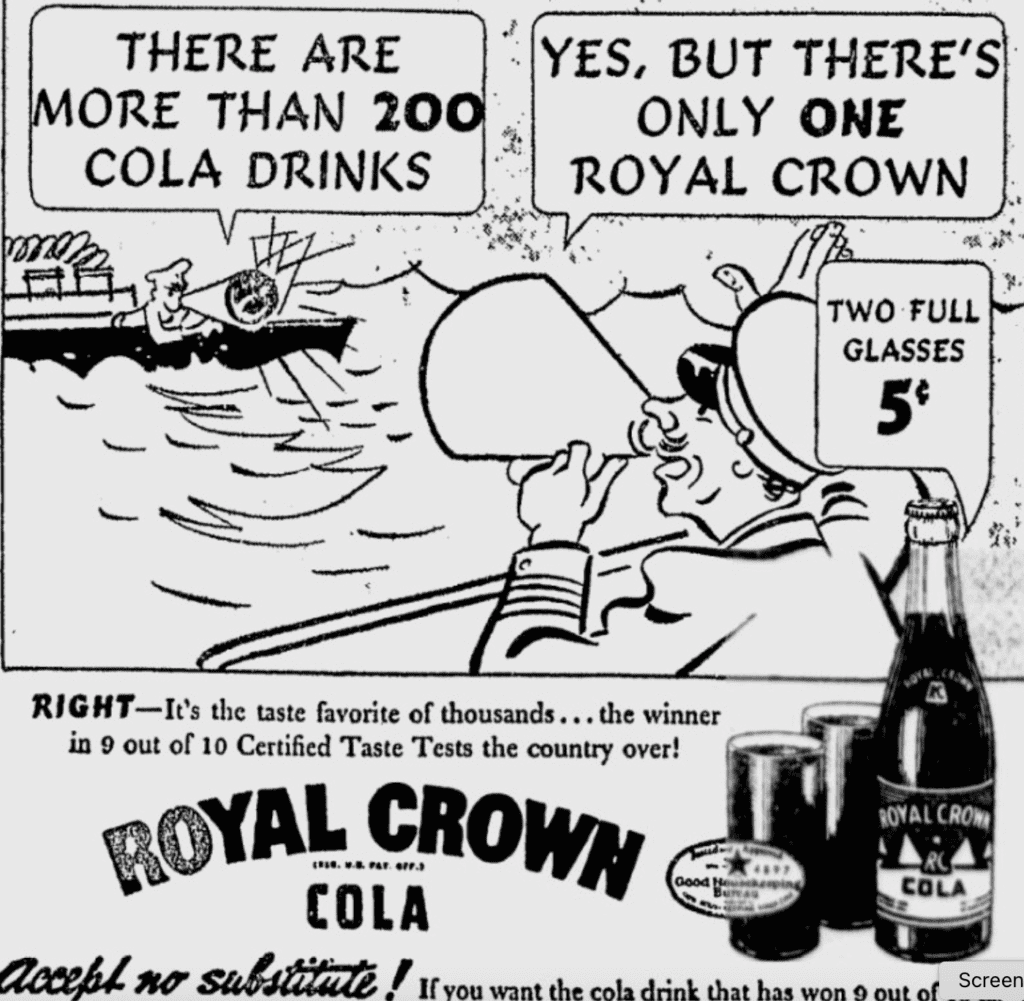 Royal Crown Cola has had periods where it was well advertised and promoted in national publications and network television. Slogans have included:
"It's a mad mad mad mad cola. The one with the mad mad taste."
"RC makes you feel like new."
"Me and my RC."
Of the slogans, "Me and My RC" has stuck.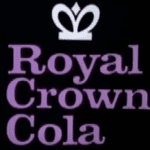 Through the 1970s, Me and My RC would help the cola become the Mountain Dew or Newport of colas, selling consumers on the idea that when you drank the product, you might be just about to jump off a rope swing, into a river, or hop off the back of a pickup truck and have a water hose fight. This niche grew out of the 1951 Big Bill Lister song, "Gimme an RC Cola and a Moon Pie." The song was made famous again by NRBQ in the 1980s.
Below, a 1960s campaign for RC, with Nancy Sinatra, from 1967.