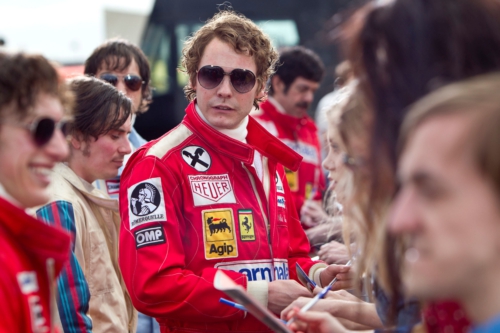 LOS ANGELES – For fans of cars and Formula One, the Ron Howard film Rush is a feast. The film details the epic rivalry between the 1976 Formula One racers James Hunt of the U.K. and Austrian Niki Lauda. Released last fall, it is just out on DVD.
Sports with technical needs are excellent builders of brands, technology and commerce. These sports encourage companies to innovate with new products, promote their brands in new ways and bring new partnerships with individuals into the company.
Hunt's sponsor brands include Marlboro cigarettes, Texaco, Good Year tires, Champion spark plugs and Canon cameras. A few of the other marques in this cornucopia of 1970s brands:
London's Daily Mail appears in various scenes
Ferrari was the car brand most associated with Lauda. Ferrari signed Niki Lauda to their team under the leadership of Ferrari's Luca Cordero di Montezemolo.
OMP is a brand of safety products founded in 1973 in Genoa, Italy. It started with safety bars and moved into fireproof suits, safety belts and seats. The brand appears on shoulder pads of Hunt and Lauda.
McLaren is of course a Formula 1 team; they also now make limited run production cars.
Lotus is, of course, a British race car brand. Founded in 1962, it is still active.
Ligier: The French microcar brand is mentioned as part of a Ligier-Matra Formula One car, which was recreated for the film with a Rover V8 engine. Matra, now a brand of bicycles and the GEM microcar, originally stood for Mecanique-Aviation-Traction and made a series of sporty French car models including the Bagheera, 530 and Murena.
Brabham was a British racing team that made Formula One cars. The Brabham team was founded by racer Jack Brabham. The Brabham-Alfa was also reproduced with a Rover V8 engine.
Elf Aquitaine: A period truck shows up from the Elf Tyrell racing team. Elf is now mostly positioned as a lubricant brand; originally it stood for Essence et Lubrifiants de France, basically Gas and Oil of France.
Carrera is a sunglass brand founded in 1956. Niki Lauda's character wears a pair of Carrera 80 sunglasses, a re-edition. These metal glasses have a teardrop shape, combined with interchangeable polarized lenses, for high-quality vision in any light condition. James Hunt's character wears a pair of teardrop-shaped injection-molded Carrera Speedway sunglasses. Marlene Lauda, played by Alexandra Maria Lara, wears a pair of Carrera 16 steel/metal sunglasses.
Bell created the first racing helmet; the company's red and white oval logo is unmistakably prominent in racer photos. Bell has an updated Star Classic helmet still sold.
Other brands include: Fuji film, Tag Heuer watches, Martini and Shell. Pictured above are sponsors that include Parmalat and Ferrari.
Agip appears as a team sponsor. The venerable gasoline brand, which is now part of ENI, is no longer preferred, and the distinctive six legged fire breathing dog is now used with the ENI wording.