CHICAGO – The era of excessively droopy or excessively tight sportswear may be reaching its conclusion, at least in the dignified realm of tennis.
In June, Wilson Sporting Goods Co. unveiled Wilson Sport Professionals. This line, set to be promoted during summer grand slams, was intentionally designed to capture the essence of what it calls a "new nostalgia" to tap into a 1950s aesthetic with "classic silhouettes and structured tailoring, pulling inspiration from iconic tournaments."
The look is wholesome, un-freakish and timeless, yet completely original and new. The company even used the word "beautiful" in its release.
"Each and every collection from the Wilson Sport Professionals line is made to perform at the highest level of sport in an iconic and beautiful way," said Joelle Michaeloff, vice president of design, sportswear at Wilson, in a press release. "Our latest drop, Modern Icons, draws inspiration from Wilson's archives and the sport's iconic moments on clay."
Wilson is also updating its equipment lineup, introducing a range of tennis equipment inspired by The French Open, Roland-Garros, and Paris as "City of Light." This assortment includes the Clash V2 Racket, Blade V8 Racket, tour packs, team packs, backpacks, balls, and dampeners. Additionally, more items and ideas from the Wilson Sport Professionals line will be released later this summer, coinciding with remaining Grand Slams.
Grand Slam Promotional Value
The summer tournaments are perhaps the best showcases for sportswear promotions, as the multi-hour games including hours of closeups of attractive tennis players in the latest outfits, and only two or four people on at one time.
The collection is not all white, which would have been a requirement in the 1950s. It includes browns, reds and even tank tops. Wimbledon still requires white, though it relaxed the requirement a bit and allowed colored underwear for women athletes in 2022, according to NPR, because of the issue of menstrual periods.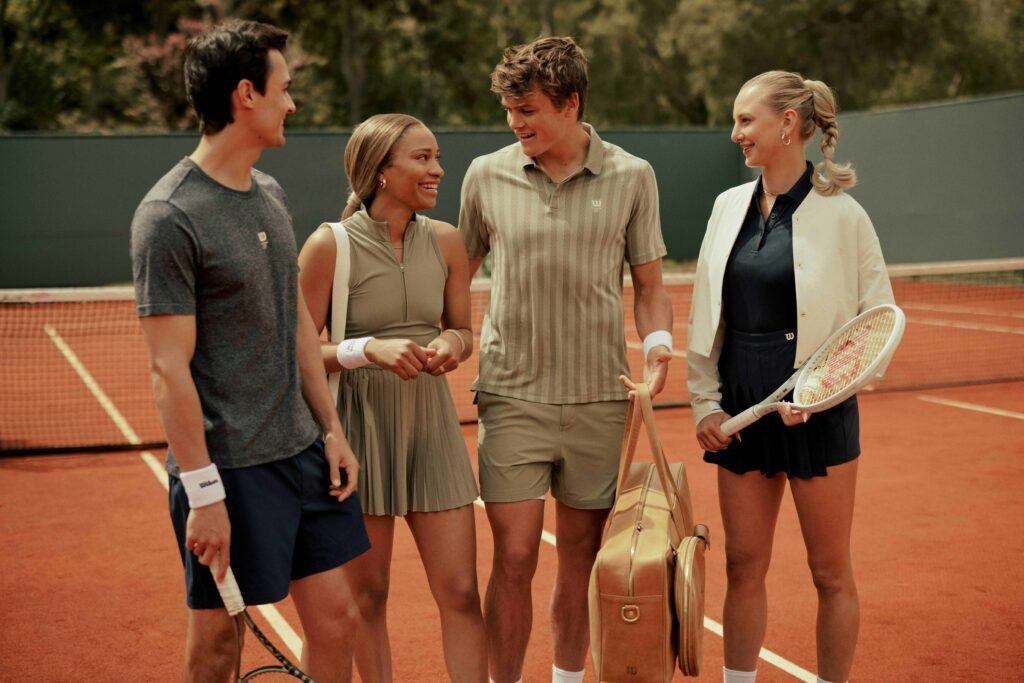 History of Wilson
Wilson Sporting Goods Co., headquartered in Chicago, USA, operates as a subsidiary of Amer Sports Corporation. The company has a history dating back to 1913 when Thomas E. Wilson started producing tennis racket strings. Over the years, it introduced the laminated wooden racket and offered a range of classic branded racquets. The brand experienced a surge in popularity during the 1970s with the rise of tennis and the involvement of players such as Billie Jean King, Chris Evert, and Jimmy Connors.
The brand is in the midst of expansion and reinvention.
In January, Wilson announced its partnership with professional tennis player Marta Kostyuk, as an ambassador in rackets, footwear and clothing. The Ukrainian is promoting products including the Blade v8 racket and the Rush Pro 4.0 tennis shoes.
New Flagship California Store
This May, Wilson opened its first company flagship store in California, located within the Third Street Promenade shopping district in Santa Monica. Wilson has two stores in Chicago and three in Manhattan, including their SoHo flagship and stores on the Upper East Side and Columbus Circle.