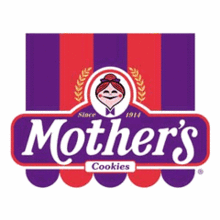 BATTLE CREEK  – Just as Kellogg's brought back Hydrox, it has now brought back the Mother's Cookies brand.
With the same taste , Mother's cookies made their highly anticipated return to store shelves in the Western region of the United States starting on May 4 – just in time for the 95th anniversary of Mother's Day as well as the Mother's brand.
Since 1914, Mother's cookies have been delighting generations with favorites like the pink and white sprinkled Circus Animal cookies and the rich, creme-filled Taffy sandwich cookies. When the iconic brand ceased production in late 2008, cookie lovers lost not only a delicious snack, but a closely held family tradition. In December 2008, Kellogg Company acquired the trademarks and original recipes, ensuring that the cookies will continue.
"We're thrilled to bring back a classic, beloved brand that calls to mind such strong feelings of nostalgia and happy childhood memories that parents want to pass down to their children," said Doug VanDeVelde, senior vice president, marketing and innovation, U.S. snacks, Kellogg Company, in a press release to BrandlandUSA.
The Mother's cookies returning to the Western region of the United States include:
Chocolate Chip
Circus Animal
Cocadas
Double Fudge
English Tea
Iced Lemonade
Iced Oatmeal
Macaroons
Oatmeal
Taffy
Vanilla Creme
Mother's Milestones
Here are some memorable Mother's cookies milestones from the last 95 years:
1914 – N.M. (Noah) Wheatley runs a newspaper stand on the corner of San Francisco's Market and Kearney Streets and decides to purchase the rights to a recipe of some home-baked cookies from one of his customers.

Circa 1915 – Wheatley trades in his corner stand and relocates to a small, one-person operation on 12th Avenue in Oakland, Calif. where he bakes about 2,000 cookies each day and night. His cookies sold for $1 a box, and his vanilla cookies were an overnight hit.

Circa 1920 – With help from a young woman named Leopoldine, the bakery grows and a romance begins. Noah and Leopoldine marry and together run the company until their son, Floyd Wheatley, is old enough to take over.

1922 – The bakery needs more space and moves to 18th Street, forcing the Wheatleys to sell their home and even their piano to pay for the move.

1949 – Success is sweet, and the bakery moves to 810 81st Avenue in Oakland, Calif. and grows to employ more than 750 people across several Western states.

1952 – Mother's cookies launches a unique promotion involving baseball player cards inserted in packages of cookies and continues to give them away as promotions at games until 1998.

1983 – Mother's cookies moves to the big screen in the movie Scarface.

2002 – Mother's cookies bakes more than 17 million cookies a day to keep up with demand.

2006 – Tough times force the company to close its operation in Oakland, Calif. and shift production to plants in Canada and Ohio.

2008 – Mother's cookies closes its doors

2009 – Mother's cookies return
For more information and to help spread the word about Mother's cookies return, visit www.Motherscookies.com.