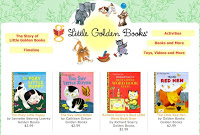 The Children's Museum of Manhattan is holding an exhibition on artwork from one of the great American publishing brands, the Golden Book. We all know the Golden Books for their gold leaf bindings and illustrations, and titles like The Little Red Hen.
Every American family has Golden Books. Over 15 million of The Poky Little Puppy have sold, according to their Wikipedia entry, and that is just one title of thousands. Many Americans collect the books. Like any series books (like the Ladybird series in the U.K.), they have a standard size, and do not take up much space on shelves. So they tend to be collected; a great site on their history is Goldenbooks.com, the website of collector Holly Everson.
The books originally sold for a quarter, originally published by Simon & Schuster in cooperation with Georges Duplaix's Artist and Writers Guild. Western Printing and Lithographing Company in Racine, Wisconsin, was Simon and Schuster's partner. In 1958, Western bought Little Golden Books. It went through a series of owners, and is now part of Random House. Click on the website screenshot here. The company website has an excellent timeline and history.
In spite of the noble aspirations, much of the writing is a bit of a bore to adults, particularly the digested versions of Disney movies and such. That matters very little; children still enjoy them.
The company had a number of great achievements, including the career of Richard Scarry.
Western Publishing is a much-missed brand. They published a number of children's book series that have not survived, including Big Little Books and Whitman. Whitman, however, did survive and is now known for its coin collecting books and coin collecting shows.
The Children's Museum of Manhattan exhibition shows 60 original masterpieces of the series and will run from July 4 to August 28. On July 8 from 5:30 to 8 p.m, Leonard S. Marcus, author of Golden Legacy: How Golden Books Won Children's Hearts, Changed Publishing Forever and Became an American Icon, will speak. He will be joined by Diane Muldrow, the Editorial Director for Golden Books.