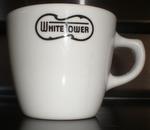 One of the great losses of an American brand was the White Tower chain, which was shut down mostly in the 1980s by its owner, Tombrock Corporation of Connecticut.
Many of the original White Tower restaurants still operate as other restaurants, including a number in Richmond, Virginia. But the glory of the gleaming white chain is gone, and Americans respectfully ask that the White Tower chain return.
Yes, White Castle is still around, but for us White Tower fans, it is no substitute. What was great about White Tower was that they had GREAT pies, as well as those little burgers. Big question. We cannot recall if the hamburgers were round or square.
One original White Tower is for sale, and in need of restoration in Ohio, according to the blogsite My Hometown Ohio. Apparently, the building needs to be removed; it was apparently opened until 2004. Details are available at the Ohio Preservation Alliance.
Ohio Preservation Alliance deserves praise for this move to preserve a lowly White Tower restaurant as does their local YWCA director Lisa McDuffie. The goal should be for the restaurant to OPERATE as a White Tower, and not just be a museum, though that would be notable as well. The chain was of national importance, and if it can find a home for the restaurant, it will be a great service to American business history. And because it was a national chain, preserving it attracts visitor interest from across the U.S., not just in Toledo.
An interesting note on the White Tower and women's history. For decades, White Tower employed many single, inner city women and mothers. It would be a great note for the building to be preserved by the local YWCA.
We can see a number of uses for the building, including as a draw for a Toledo area shopping mall, a lure for a shopping center in a new housing development, an anchor in a theme park, or a restaurant for a history museum in Ohio. And its being offered up for $1, so it is a great bargain.
Toledo has a great opportunity.