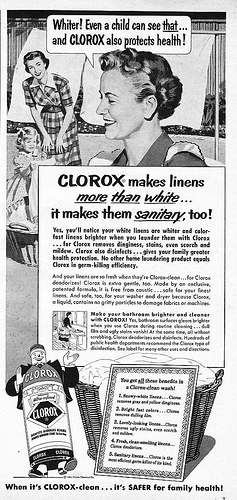 Clorox is truly one of the wonder brands.
Since its introduction in 1913 in Oakland, California, Clorox has become an essential part of the American household. The Clorox website history claims (and we believe it) that eight out of 10 households have Clorox bleach in their houses (and we would guess that the other two have store brands).
Not only is Clorox beloved for its usefulness in kitchen and bathroom safety, its ability to kill viruses and bacteria makes it the ultimate safety protection in most every sort of epidemic and medical scare. From the pre-penicillin era to today's worries about Norovirus on cruise ships and the dreaded MRSA in school locker rooms, a dash of Clorox and water is the answer.
But like so many other consumer products, Clorox faces a continually changing market. As it has over every American decade, Clorox adapts. For instance, Clorox Disinfecting Wipes target busy minivan moms. A new ad campaign called the Blue Sky Project gives the product line a charity-focused angle. (Look online for web clips of their ads.)
While consumers still swear by Clorox, consumers are more conscious of green issues. "How could we build a natural cleaner?" was the question Sumi Cate and the rest of the research and development asked at the venerable Oakland, Calif.-based company kept asking. At the same time consumers were looking and buying environmentally friendly products, the staff was too. Cate, Clorox's Sr. Scientist, Clorox Research & Development, says that for the last 10 to 15 years, natural products have been a pet project for the R&D staff. "We have alot of people in our company who are strong environmentalists."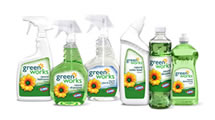 But the research staff was not interested merely in natural ingredients, but in a new solution, and finding a combination of ingredients that "had the efficacy that consumers were looking for." Another consideration in the process was smell, which, according to Cate, is both a marketing and research issue. The answer? Green Works, a product that harnesses natural ingredients including coconut, lemon, palm kernel oil, and combines them in a new way to do the same old thing. Namely clean stuff up.
"People try to grain up their products," says Cate, referring to the idea where you take a current product, and change some ingredients to make it new. "We were building from the foundation."
The Green Works brand is a separate brand from the product Clorox. At the company, Cate says that there was some internal debate on whether to add Clorox to the product name, or whether the new brand should be completely separate and stand alone. The Clorox name won; the brand Clorox stands for a "pure clean" and helped to reinforce the product claims of the Green Works. "The Clorox name brought credibility," says Cate.
The Clorox brand has a separate identity from The Clorox Company, and each logo is slightly different. The Clorox Company (NYSE: CLX) not only makes its namesake product, but owns an enviable assortment of iconic American brands. This lineup of living Americana includes the brands STP, Armor-All, S.O.S., Brita, Tilex, 409, Kingsford, Liquid Plumr, Pine-Sol, Wash 'n Dri, Lestoil, Handi Wipes and Glad. And while Clorox doesn't appear on the label, they also own the sauces K.C. Masterpiece and Hidden Valley.
Working behind the scenes at Clorox is a staff of thirty plus who work in product safety. Their process is not only to test ingredients for new products, but to assess relevant studies relating to current products.With the new product, Clorox has not run from the idea that the original Clorox is safe, if used carefully, and degrades into salt and water. It has a website www.factsaboutbleach.com that details the safety of Clorox. Clorox is proud to mention that its location in Oakland goes back to its company roots. The original name for the company was the Electro-Alkaline Company. It located on San Francisco Bay to make Clorox from salt ponds. "We used to make it by running electricity through water," says Cate.